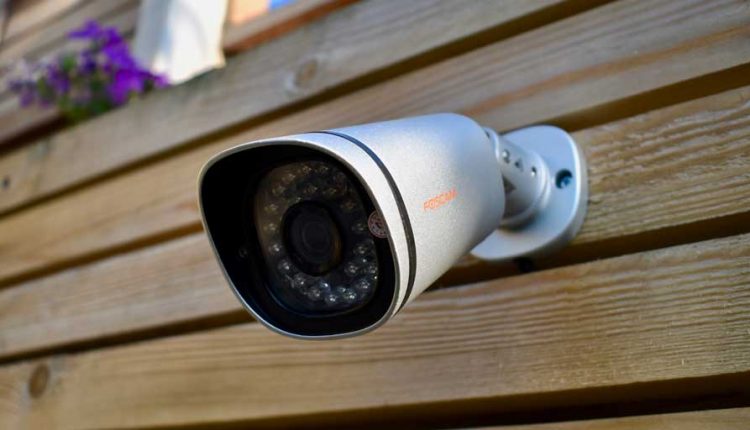 This guide is designed to give an overview of IP Security Cameras and hopefully demystify some of the confusing and sometimes frustrating specs and features found in the security industry. As always an Arcdyn Tech is here to help guide you to the perfect product, just give us a call at 855-272-6682 or email us at sales@arcdyn.com if you have any questions.
CAMERA TYPE
Most security cameras will fall under one of these three general types or body styles. Specialty cameras like Fisheye, Panoramic, and PTZ (pan tilt Zoom) will be covered further down in this guide.
Dome Camera
Dome cameras typically have a clear plexiglass dome covering the lens of the camera. This provides for a better level of protection from vandalism, but in some cases can reduce Infrared or Nightvision performance. Dome cameras are typically mounted to a horizontal surface like a ceiling or soffit. Wall mount kits are recommended if there is no horizontal surface available.
bullet cameras are typically cylindrical in shape and have a multi-axis mounting bracket that allows for mounting on both horizontal and vertical surfaces. Mounting boxes are recommended for cable management in outdoor installs or when conduit is being utilized.
Turret Camera
Turret cameras have a ball in socket design that make mounting and positioning of these cameras extremely simple. A single lock screw, when loosened, allows the ball portion of the camera to freely move. Once tightened, the camera is locked in position.
COMPARISON OF CAMERA RESOLUTIONS AND LENS FOCAL LENGTHS AT 25FT, 50FT,
Subject 25 Feet Away
| | | | | |
| --- | --- | --- | --- | --- |
| | 2.8mm | 4mm | 6mm | 12mm |
| 1080P / 2MP | | | | |
| HD+ / 4MP | | | | |
| 4K / 8MP | | | | |
Subject 50 Feet Away
| | | | | |
| --- | --- | --- | --- | --- |
| | 2.8mm | 4mm | 6mm | 12mm |
| 1080P / 2MP | | | | |
| HD+ / 4MP | | | | |
| 4K / 8MP | | | | |
Subject 100 Feet Away
| | | | | |
| --- | --- | --- | --- | --- |
| | 2.8mm | 4mm | 6mm | 12mm |
| 1080P / 2MP | | | | |
| HD+ / 4MP | | | | |
| 4K / 8MP | | | | |
SELECTING A CAMERA BASED ON ITS PURPOSE
Camera selection and placement is largely dependant on the purpose or goal of that particular camera. Are you watching the entrance of a building then you want a camera with a tighter view and high enough resolution to capture faces effectively. If your camera is monitoring a parking lot, then a wide angle lens will be better for capturing a large area all at once. Some cameras a specifically built for a single purpose. license plate Recognition cameras usually have a strong zoom lens with special analytics built in to read and capture the characters of license plates on cars as they pass in front of the camera. Knowing the technologies that are available and how to best utilize them will ensure that your system is an effective and successful investment.
General Overview
Cameras used for general overview should have the widest view possible. The goal of these cameras is to simply provide a view of a wide open area like a parking lot, front yard, or warehouse. These cameras are not there to provide detail or capture specific identifying features of a subject.
Funnels and Pinch Points
Areas that act like pinch points can be a great place to capture up close and detailed images of a subject. These can be entryways, hallways, driveways, entrances to parking lots, gatehouses, fence gates, etc. Cameras utilized in these areas should have a narrower field of view and higher resolution. Also, consider using cameras with special analytics like facial recognition and/or License Plate Recognition.
Audio
Some cameras are equipped with audio inputs and/or built-in mics. Typically built in mics provide a convenience, but poor audio quality. For situations where a clear audio recording is required, you should use an external mic with a separate power source. This allows the mic to be placed in the environment where it will best pick up and record the desired sound source as this is rarely the same location where you'd get the best video. If you plan to record audio, you should ALWAYS check your State and local laws to determine if you can legally record people on the premises.
Alarm inputs on a camera or recorder can be a great way to integrate other security or access control devices into your surveillance system. One great setup is to tie an alarm system PIR motion detector to a PTZ camera. When the PIR Sensor detects motion it can trigger a rule on the recorder to fire a preset on the PTZ, causing the PTZ camera to move and zoom into a predefined position. Any device that utilizes a NO (Normally Open) or NC (Normally Closed) circuit can be used to trigger a number of different actions on a camera or recorder with alarm inputs.
SD Card Slot
Some ip cameras can utilize micro SD cards to give the camera the ability to record footage and other information directly on the camera. This can be useful when a recorder isn't viable (such as a standalone pole system) or as a redundancy to the recorder. Some cameras require a micro SD card in order to store analytics data for future retrieval (such as LPR cameras).