Free IP Camera Cloud Storage
Free IP Camera Cloud Storage: Setup, Cost, Risks & Free Solutions
So you are looking for an IP camera cloud storage solution? And want it FREE? In fact, free cloud storage for security camera could be easy depending on the IP cameras you're using. Basically, the IP camera cloud storage is available via either the camera manufacturer's client or the third-party software. And the camera provider's cloud storage for CCTV is the most reliable and convenient way to go, most with FREE access to basic plans, NO subscriptions and NO extra fees.
And here is what you need to know about IP camera with cloud storage:
Table of Contents
IP Camera Cloud Storage: How Does It Work

how to Access IP Camera Cloud Storage

Security Camera Cloud Storage Cost

IP Camera Cloud Storage Safety Issues

Best Cloud IP Cameras

IP Camera Cloud Storage Alternatives

3rd Party IP Camera Cloud Storage: Things to Consider

How to Set up FTP Storage for IP Cameras
Load More :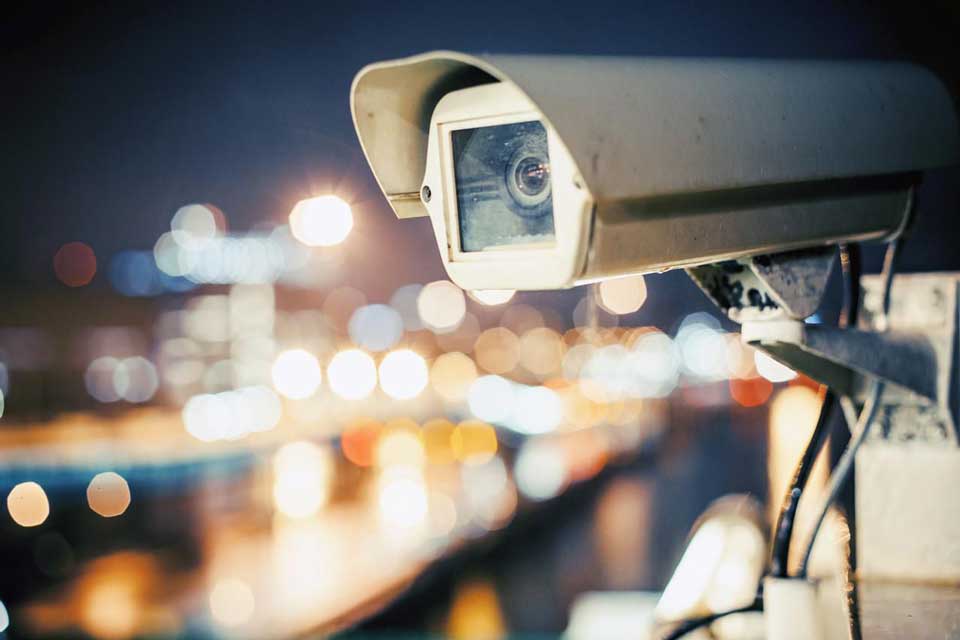 IP Camera Cloud Storage: How Does It Work
IP camera cloud storage uses Internet to store your encrypted IP camera recordings in the off-site storage software, namely the cloud server, so that you can view, playback, delete and download the recordings from your cloud IP camera cloud as long as there is network.
And the network plays a central role in the cloud storage for security cameras.
For example, the wireless security camera cloud storage uses WiFi network to send video recordings and live feeds to the cloud server, simple and convenient. And the Argus 3 Pro is a highly demanded model that works seamlessly with the Reolink Cloud.
No WiFi network? No worries.
You can still have the IP camera cloud storage with cellular cloud security cameras which use 3G/4G data to send streams over the net, offering full functions and benefits of CCTV camera cloud storage.
How to Access IP Camera Cloud Storage
"So how do I access the security camera with cloud storage to view and to reset or delete recordings?"
It's easy! You don't have to do anything other than signing into your account via the cloud security camera app or the cloud website, after you bind cameras to the cloud. And then you can see everything on its cloud section, view and playback those cloud recordings wherever you are.
For example, there are only 3 steps to set up and access Reolink Cloud:
Step 1. Create an account on Reolink official website and add cameras on Reolink App.
Step 2. Come to Device Settings -> Could Storage page to set up the CCTV cloud storage.You are required to log in with the Reolink account you created before, and choose a camera cloud storage plan. Just follow the on-screen prompt and you can bind the camera to CCTV camera cloud easily.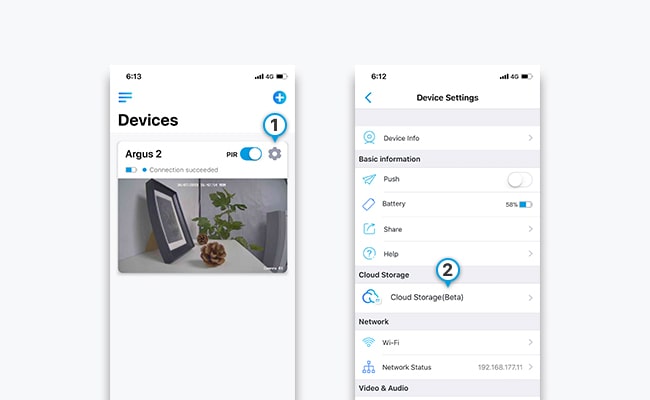 Step 3. Schedule your IP camera cloud recording, like enable and disable automatic uploading to the CCTV cloud storage and video resolution.
Voila! You got a cloud storage camera now which will upload videos to the cloud right away!
Note: Remember that battery powered cameras only record motion events from your IP camera to cloud storage in order to save the battery life. You will not want large files on the cloud storage for CCTV anyway.
Security Camera Cloud Storage Cost
No one wants to pay for the IP camera cloud storage subscriptions on top of an expensive initial camera set, especially if you are talking about security camera systems with cloud storage.
And the good news is you don't have to, actually.
Now most IP camera cloud storage is FREE for the basic plan with like 7 days' retention or 1GB size data storage, meaning you'll have the latest recording forever, and it is perfectly adequate even if you put your cloud IP camera in busy areas, especially for those recording motion only.
If there is no free cloud storage available, why don't you just turn to other camera brands that offer such service? You know, free IP camera cloud storage is supported by more and more brands to cover your basic security needs.
So a subscription is only needed if you want the premium storage packages for your cloud IP camera, which may have longer video history, lager storage space, and more supported cameras, costing you about $10 a month. After all, the cloud hosting has an associated cost itself.
IP Camera Cloud Storage Safety Issues
How secure are the videos stored at the cloud storage forsecuritycamera? Is data encrypted at rest? Who has access to the footage? What if someone hacks into it?
Privacy and safety issues of IP camera cloud storage are always a big concern. And the best solution to avoid these problems is to choose a reputable security camera brand with advanced encryption technology.
And the quality cloud IP cameras will enable Transport Layer Security (TLS), store videos in Amazon S3 (the industry's most-trusted service), and transmit videos through HTTPS (the protocol to ensure your data is encrypted and transferred over a secure connection).
And those trusted cloud storage camera manufacturers are more devoted to keeping the servers up to date with security patches and operating system updates. They will update the software regularly on their software pages so that the customers can always keep up-to-date.
Actually, the biggest risk of the intercepting things is that users don't change their default account password like admin or 12345. No kidding. A LOT of users just leave it unchanged and end up being the victim of the online hacking.
So do remember to create a strong password to keep your cloud IP camera safe.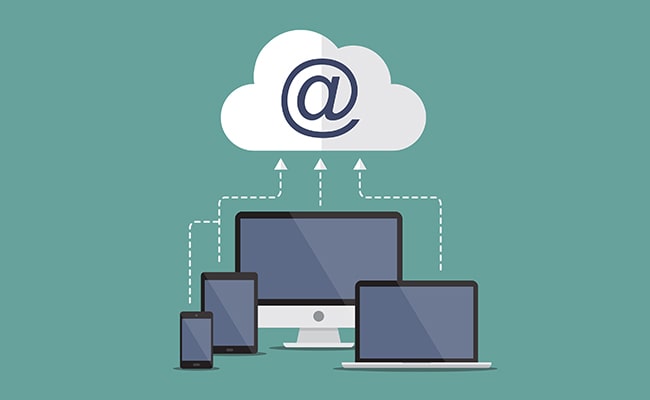 Best Cloud IP Cameras
I have an outdoor cloud IP camera to monitor the front yard. It has its own free cloud storage with retention of 7 days, but I am not that happy with this device, kinda buggy, it misses sometimes very important motions in my yard and the worst part is 1MP low resolution.
A cloud storage camera with blurry images and false alarms will lose all its edges of free cloud storage.
Is there any reliable cloud IP camera with free cloud-based storage?
Yes, of course. Here are top two cloud IP cameras I'd recommend. ( Bonus: They also have an SD card slot in the camera to enable local storage if you want.)
Note: Reolink Cloud is available in the US, Canada, Australia and New Zealand for now, and more countries will be supported in the near future. You may subscribe to us to be notified with the latest updates!
Pick 1: Reolink Argus 3 Pro
If you are looking for a quality cloud IP camera that has the footage secured in cloud without forcing you into monthly subscriptions. This is it.
Plus, this best selling wire-free cloud IP camera supports both cloud and local storage, so you'll have no worries for missing a thing, even if your device is stolen or Micro SD card is broken. You can just access the recordings anytime anywhere on the cloud.
Key features:
2K 4MP resolution, industry leading clarity in battery cameras
100% wire-free, easy to install (in 5 minutes) and remove
Color night vision, offering more details at night
Cloud IP camera storage enables you to access the recordings anywhere via Reolink App
Pick 2: Reolink Argus Eco
If you are looking for a bullet type of cloud IP camera with affordable price tag, this is it.
Plus, it is super easy to set up and configure the IP camera cloud. Just sign up your account on the free cloud IP camera software Reolink App, and that's all.
Key Features
1080p resolution, the best clarity among the battery cloud IP cameras
Starlight night vision helps to keep an eye on things even in no light conditions.
100% wire-free, easy to install even for beginners
Accurate PIR motion sensor, almost no false alarms
Secure online IP camera cloud storage and local storage
IP Camera Cloud Storage Alternatives
If you still don't trust the IP camera cloud storage after all these security methods, then the local storage may suit you better with no hacking risks. You know, saving to the SD card or NVR locally also offers remote control over the recordings on your phone, PC and laptop anywhere, as I've mentioned.
Here I've rounded up a comparison chart between the IP camera cloud storage and local storage to help you reach a final decision.
| CCTV with cloud storage | CCTV with local storage |
| --- | --- |
| Data stores on the cloud server | Data stores in SD card, DVR or NVR |
| Files are temporary (unless you download it) | Backups are forever (until it's full and get overwritten) |
| Large storage space | Limited storage space |
| Dependent upon your Internet connection | Independent upon the Internet connection |
| No concerns about being stolen by thieves | No concerns about hacking & privacy issues |
| Data transfer depends on the network | Data transfer speed is fast and stable |
| Subscriptions for advanced plans | Initial payment for the hardware (SD card/NVR) |
Actually, local storage often works with the free FTP online cloud storage, meaning the videos can be automatically uploaded to your PC online, and therefore you don't need to worry about the stealing issue after you set up the IP camera FTP server.
And personally, I favor the security camera that opens both local and CCTV cloud storage options to users, like the two above, so that you may choose whichever you need according to your monitoring situations and security needs.
3rd Party IP Camera Cloud Storage: Things to Consider
Chances are that your IP camera cloud storage is not enabled, but still you want to save camera recordings to the cloud. In this case, you'll need the help of either a 3rd party CCTV cloud storage software or an FTP server.
And here are two things you need to check before signing a contract with any 3rd party IP camera cloud storage platforms:
Make sure your security camera is supported by the 3rd party cloud IP camera software. Some cloud IP camera software only support h.264 compression and RTSP protocol.
Check the resolution output of the cloud IP camera app and whether they will support both image and video recordings to make the best use of the CCTV cloud storage.
How to Set up FTP Storage for IP Cameras
FTP storage for IP camera is a great substitute of the free IP camera cloud storage and the NVR security camera system cloud storage.
After you set up the FTP storage for IP camera, all the motion event recordings (picture or video) will be automatically uploaded online, so the thieves can never take your evidence again.
Here is how you can set up the security camera with cloud storage via FTP. Take Reolink cameras as an example:
Step 1. Download the Cerberus FTP Server and install it.
Step 2. Configure the FTP service. (See detailed guide here.)
Step 3. Setup the FTP settings on your camera. (Follow the detailed steps here.)
Actually, the free FTP storage is most commonly used, as a perfect substitute, in the non-battery powered cameras, since they are less likely to be supported by the CCTV cloud storage in manufacture.
Best Security Camera with FTP Storage
Favors the free FTP storage?
Then you may take a look at the Reolink RLC-810A, the hottest seller with free FTP online storage, offering you the best security as well as convenience, at a highly affordable price.
Highlights:
4K 8MP ultra HD resolution for your choice
power over Ethernet, easy to use and install
Audio enabled with built-in microphone
IP66 waterproof, suitable for outdoor use
Free FTP storage to save camera recordings
Reolink RLC-810A daytime video:
If you have any other questions concerning the surveillance camera cloud storage, you may leave a comment down below! Whether you are looking for an outdoor security camera with cloud storage or WiFi security camera cloud storage, we will try to find the best solution for you.
Editors' Note: IP camera cloud storage enables you to access to your camera recordings anywhere, but it's not the only option. If you want remote viewing and playback function, you don't need to bind your IP camera to cloud storage. Any online IP camera can do that easily via the phone app, PC or web.