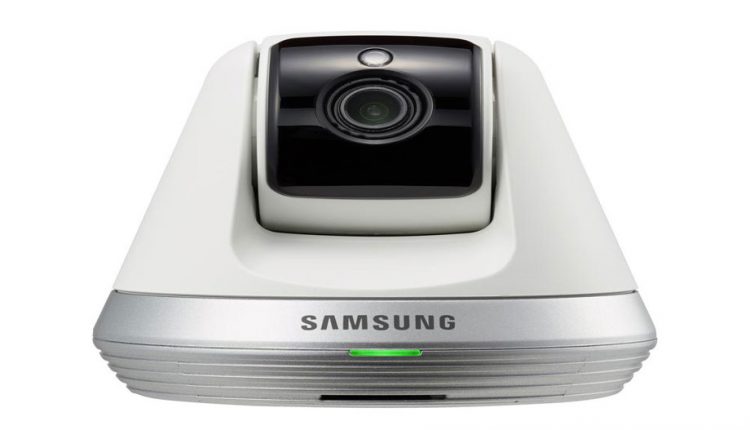 Samsung Smartcam SNH-V6410PN Full guide
The SNH-V6410 is a compact pan & Tilt camera which can be remotely controlled from your smartphone via wifi. It has a motorized 'object tracking' particularly useful for automatically seeing what your pets are getting up to. Although designed for general security purposes, it's a camera which can double up as a baby monitor and offers the added bonus of helping you effortlessly keep in touch with your teenage children whilst you are out.
Watch what matters most
It can be taken for granted that all Samsung home security cameras, including the Samsung SNH-V6410, will capture amazing quality 1080P Full HD images, The Samsung SNH-V6410 has Night Vision capability which ensures it will continue to capture high quality images for up to 5 meters in low light conditions.
Stay Connected
You cannot always be at home and so peace of mind comes with knowing you can have a two-way conversation within anyone in close proximity to the Samsung SNH-V6410 via a built-in microphone. There is a 128GB SDXC memory slot so that precious memories can be recorded, such as a child's first steps. You also have the flexibility to record video content or still images directly to your smart device whilst using the Samsung SmartCam App.
setup and installation couldn't be simpler and in less time than it takes to make a cup of tea, your camera will be setup. Simply download the SmartCam app for either iOS or android and follow easy to understand in-App instructions. Be prepared to think up a personalised password as Samsung is on the case when it comes to ensuring cyber criminals won't invade your privacy.
Key Features
Compact designed Pan/Tilt camera
1080p Full HD camera
Object Tracking
Privacy mode(Tilt-80)
SDXC Memory Slot(Max. 128GB)
Event Notification
Motion Zone Select
Night VIsion to 16ft(5m)
Wide Dynamic Range
Two models:
White (SNH-V6410PNW)
Black (SNH-V6410PN)
Manuals and Guides
[wp-embedder-pack width="100%" height="800px" download="all" download-text="" url="https://www.hanwha-security.eu/wp-content/uploads/2016/06/User_Manual-SNH-V6410PN-ENGLISH_Web-0314.pdf" /]