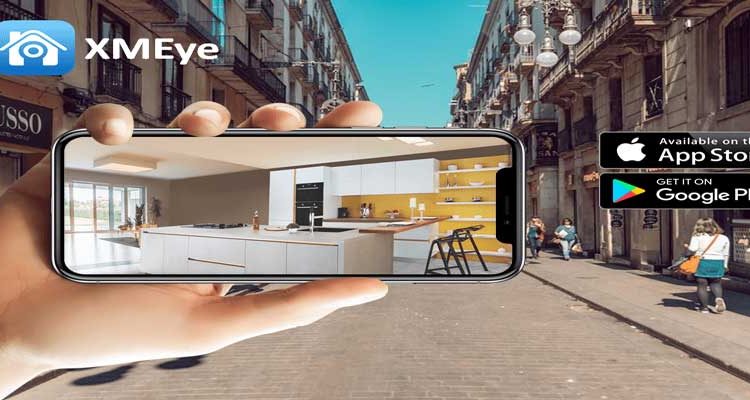 Features of XMEye | XMEye app | Android, iOS, PC, Mac | XMEye camera compatibility | XMEye Setup | and more…
Are you looking for a video surveillance application that is free to use? If yes, then XMEye is for you. The name is an abbreviation of "Xiongmai eye" and it is an application for users of different CCTV systems.
This application is free to use, it can be easily used on your mobile device to ensure the security of your home and other properties, and its cloud servers support a huge volume of video imagery.
What Is XMEye?
XMEye is a cloud storage and free service system for CCTV systems that allows remote monitoring via multiple devices. It is a CCTV application that can store different kinds of videos in various sizes and it works on PCs when viewed using an emulator like Bluestack.
Some of the features of XMEye include:
Cloud login support

Bidirectional talk support

Remote playback

Playing and recording feature locally

Picture searching feature and screenshot

PTZ (pan–

tilt

–zoom) control support

Serial number scanner and QR code available

Modification of cloud registry

Add/edit/delete remote device

Manual searching for LAN devices

IP address device adding

Shake to search gesture control
XMEye was created by trusted industry experts and has many advantages over its counterparts in the market. Its Cloud 3.0 capabilities make it work faster than before.
Aside from being easy to use, XMEye is also compatible with most IP security cameras. Its cloud storage is regularly saved and backed up to protect security footage and prevent errors.
How Does XMEye Work?
The XMEye application works in a unique way, in that all Xiongmai devices are connected automatically to cloud servers that are run by Xiongmai. XMEye is a P2P (peer-to-peer) communication component designed to help its users access their security cameras and DVRs from any part of the world without the need for any configuration.
Accessing a Xiongmai device through a P2P network requires you to know the Unique Identity (UID) of that device. Every device has a UID, which is derived from the MAC address of the device. Many electronics firms have specific MAC addresses that they can use.
Xiongmai uses the MAC addresses of companies like cisco Systems, Metrohm AG and Koenig & Bauer AG. By computing all ranges of UIDs for MAC addresses of these companies, the Xiongmai cloud has around nine million of its devices online within 2% of the ranges available.
Best Features of XMEye
Live Video
From your "Device List", you can select any device and click "Start video" at the bottom to get into the live video interface.
Remote Playback
Using XMEye on a mobile device allows you to visit the device remotely; you can collect video from hardware storage and achieve playback. You can click a time on the top right corner to search. You can play/pause, record audio, or take snapshots as you wish. Of course, you have to make sure video is available or it will not work!
Audio Speaking
Click the microphone icon to access audio speaking or mute it. You can communicate with your device from your mobile phone.
What Devices/Systems Is XMEye Compatible With?
XMEye is most used on PCs. However, it can only work on PCs provided that you run it through an emulator like Bluestack. Aside from PCs, it also works on iOS and Android mobile devices. The general VMS software can be used directly on your system for video surveillance.
Note that XMEye has no application that runs on the Windows 10 smartphone. It may be upgraded to work for such devices soon if there's enough demand for it.
Best XMEye Alternatives and Similar Apps
This application works for both Android and iOS devices. It has a PTZ feature that allows you to pan, tilt, and zoom security camera footage. Among its features are the live view, live audio, and device management functionalities.
It has a snapshot, full screen, two-way audio capabilities, and PTZ control. Some added features are channel control, gesture digital zoom, gesture PTZ control, and second stream.
Comparing the Alternatives
Below is a table showing a summary of the features of the various alternative applications to XMEye.
On mobile/cell scroll left to see more >>>>
| | | | | | |
| --- | --- | --- | --- | --- | --- |
| | XMEye | ICamViewer for iOS | XProtect Mobile for Android and iOS | VMobile app | MobileFocus for Android and iOS |
| Number of CCTV cameras each app can manage | 64 | 16 | 48 | >100 |  6 |
| Social media sharing | Yes | Yes | Yes | Yes | Yes |
| Snapshots | Yes | Yes | Yes | Yes | Yes |
| Compatible devices | iOS and Android | iOS only | iOS and Android | iOS only | iOS and Android |
Other similar products not discussed in this article include:
What Are DVR, SDVR, and NVR?
What is DVR
This is a Digital Video Recorder that records videos in digital format that can be saved on a disk drive, SSD, SD memory card, or USB flash drive. It is like a basic VCR that uses hard drives instead of videotapes. It can pause live TV in real-time by recording the current show.
For CCTV technology, the DVR converts analogue signals to digital in a compressed format. Without the DVR, IP cameras can work independently, the same way a security camera will work with SD cards.
What is NVR
This is a Network Video Recorder. It works, like a DVR, by recording videos in a digital format onto USB drives and SD memory cards. It does this by using its software program and its video quality is better than the DVR.
Since Ethernet cables carry audio signals, cameras with microphones can record audio signals to the NVR. The major difference between the NVR and DVR lies in the way they process video. NVRs are mostly used with IP Cameras while DVRs are used in connection with analogue cameras.
What is SDVR
This is a Super Digital Video Recorder. In simple terms, this is DVR of higher specifications.
Yes. With regard to the video quality that the NVR produces, it is better than the DVR. This is because its video quality is better even at the same resolution as a DVR. It carries audio signals through Ethernet cables so that voices surrounding the camera can be recorded through its microphone.
How Do I Connect My DVR to XMEye?
After downloading the XMEye app from the Google Play Store or Apple Store, it takes just three steps to connect your DVR to XMEye:
Tap local login

Add device: Click the "

Plus

" button to add a camera

Input the system's information:
– Use any name you want
– Find the S/N on the monitor (Note that the S/N on the DVR label is not the one used to view and connect)
– There is no default password
How Do I Register on XMEye?
Just like any application, you will need to register on your first visit to the website www.XMEye.net in order to access the cloud servers of XMEye. A page will pop up and it will require you to provide the following information:
Username

Name

Contact

Address

Email

Password
It is important to note that you must enter a valid email address. This will be used to reset your password in case you forget it. After completing the information and clicking "OK", you will be redirected to the login page.
On the login page, you will be required to enter your registered username and password and then you'll need to enter the verification code before you log in.
How Do You Download, Use, and View XMEye on a PC/laptop?
Download an Android emulator like Bluestacks (See below for details)

Launch the emulator

Download XMEye apk file on your PC

Drag and drop it into your emulator

Follow the instructions to successfully install it

Once the installation is complete, launch XMEye within the emulator

Configure XMEye with installed IP cameras and DVRs as seen in the earlier "How do I connect my DVR to XMEye?" section
XMEye is a mobile application that will not work on your laptop unless you use an emulator like Bluestacks. This emulator helps you access mobile applications on your PC or laptop. This is very important because sometimes you might want to watch the live footage on the XMEye. The details you need to look at might be obscure if viewed through a mobile phone, so a bigger screen will give you more clarity.
Below are the steps you need to follow to use Bluestacks:
Go to Bluestacks.com and download the Bluestacks application to your PC. After getting the.exe file, run and install it on your PC. After installation, you can go through the tutorial to familiarise yourself with its use.

After launching the Bluestack application, go to the upper right section of Bluestacks and search for XMEye in its app centre. Click on "Download" and install.

After installation, run the application and log in. You can use the shortcuts described in the Bluestack tutorial to easily navigate between screens and run multiple applications at the same time.

You can then configure XMEye with your installed IP Cameras/DVR.
Note that, as much XMEye supports a handful of cameras, you will need to have their serial numbers before you can pair them with the XMEye application on your computer.
Furthermore, you have to bear in mind that you will need 300MB per hour for each camera to store your video imagery. XMEye is compatible with and will run on Windows XP/7/8.1/10/Vista and Mac OSX provided that you have Bluestacks on your PC.
How Do You Download, Use, and View XMEye on a Mac?
The steps to download and use XMEye on Mac computer systems are almost the same as those to use it on PC or laptop. The major difference is that you will need to get the Mac version of the emulator.
The default one you see around is the Windows version but there is also a Mac version that you will have to download first before downloading the XMEye application on it.
Below is a summary of the steps it will take to get XMEye running on Mac:
Download an emulator for the Mac operating system

Install the emulator, e.g. Bluestacks, from its file

Launch the emulator

Register, if it's your first time using the emulator

Use the built-in-search option to download the XMEye app and install it

After installation, launch the XMEye app and use the serial numbers of IP cameras and DVRs to configure them as seen in the earlier "How do I connect my DVR to XMEye?" section
How Do You Download, Use, and View XMEye on Android Devices and iPhones?
Users can find the app in one of two ways:
Get it from the device supplier
After installation, click the XMEye icon to start using it. The login page is the first place you are directed to. You can click on either of the three login options: Local login', 'Cloud login', or 'Direct login'.
Local login does not allow you to have access to the cloud video function, so you don't have to input your User ID or password. By clicking "Local login", you will be taken to the "Device List".
Cloud Login
The username for logging in is the same as the one that was used to register on www.XMEye.net. The user can click the "User Register" button in the app to register a fresh account. If the user has any devices saved in the cloud, they can always access them after cloud login.
You can add devices on the application in three ways: manually add, quick configuration, and LAN search.
Manually add
To add manually, click the "+" button in the top right corner of your "Device List". From there, click the "Add Device" interface. The default way to add the device is manual, so it will not be hard to find. The following is the information you will have to input when you want to add the device manually:
Device Name: This can be customised

Serial number

Username: The default username is "admin"

Password: There is no default password

Port: Default is "34567"
After filling these details, you are taken back to the "Device List" page and you will see that your device has been added.
Quick Configuration
To enter the Wi-Fi configuration interface, click "Quick configuration" in "Add Device". Input the Wi-Fi password, tick "Done" to see a green colour shown in the tips area. Click "Complete all of the above actions" to scan.
You will then see the green monitoring device mark. Click it to add a device. There are a couple of operations that you can carry out using the "Edit" button.
LAN Search
To search for devices within the same Local Area Network (LAN), click the "Search" button at the bottom of the "Manually Add" page.
XMEye App Menu
The following items appear in the menu of the XMEye app:
Encode Config: To modify resolution, video parameter, audio, definition, and frame rate

Record Config: You can modify the length of the video, stream set, and pre-record time

Alarm Config: You can receive an alarm message

Image Config: You can flip the image by using the mirror button

Remote Playback

Storage Config: Click it to show total and residual capacity

Change password

Download: You can select a period to download and observe the progress

About: Click it to get the following
– Software version number
– Device version number
– Serial number
– QR code
– Last update time
– Time synchronous
– Running time
– Cloud status
– Network mode and so on
Language Switching on the XMEye application
You can switch to your preferred language on the XMEye application. When your phone language is English, the XMEye app will also switch to English.
Find useful Android user manual here
How Do You Download, Use, and View XMEye on a Smart TV?
Since applications like XMEye exist in apk files, you can download the apk file to your laptop then copy it to your flash drive.
Insert the flash drive into your smart TV. You should see the application displayed. Next, press the "Select" button to see the details of the application. The final step is to install and run the application. Installed apps can be viewed on the "settings" screen.
Where Is the Serial Number on XMEye?
To find the serial number of your XMEye, look under the main menu section. Click "Info" then click "Version." The serial number is a minimum of 16 characters that involve both letters and numbers.
How to Enable Motion Detection Recording Using XMEye
A motion detection recording feature is available with the XMEye application. When you open the application, select "Local login" at the bottom, then you will be in your "Device List" interface. On this page, you need to select the camera.
This will take you to the live view of the camera you have selected. Click on the house icon of your live view, which leads to the "Settings" tab. Select the "Alarm Config" button. In the "Alarm Config" page, make sure the "Alarm" and "Alarm Record" are on.
After this, click the save button at the top to enable motion detection recording. Other functions in the "Alarm Config" page are the following:
Video loss alarm – If there's a loss of video and this is on, you will be notified

Alarm push – This pushes alarms to make them active on your phone

Alarm snapshot – If on, this will send a snapshot when it detects motion through the camera

Video blind – In cases where the camera has been sprayed with paint or covered, you will get the notification. It is very important to set this on

Sensitivity – If you continually get a false alarm, try to reduce the sensitivity of your app
How do I download XMEye videos?
You can download XMEye videos by following these steps:
Select the DVR device

Select the camera number you want to get video from

Select camera live (real-time video)

Select home XMEye video stream for more options

Select the download button to select the clip
– If it's an old video that is not real-time, select the date of the video you want to download

Select from the list of videos

Reduce the list by selecting not just date but time

Select duration

Finalise download timing

Click download button

After the download is complete, go back to device selection and swipe right side

Select "local record" to check your downloaded video

Play through your video player
XMEye Cloud Storage
XMEye cloud storage is free. It has cloud servers that can store huge videos, pictures, and other media. For you to save these videos locally, you need to have enough space in your SD card. Also, you need around 300MB per hour for each camera to save/store your videos.
XMEye Troubleshooting
XMEye is usually a stable application, but if it is not working, try the following:
Refresh your browser. By clicking Ctrl + F5, you can force a refresh of the browser you are using. This will work if you are using Internet Explorer, Chrome, or Firefox.
Clear the temporary cache of your browser. Clear the cookies of your browser to ensure you have the most recent version of 

www.XMEye.net

.
Clear the local DNS cache of your browser. Ensure you have a recent version of www.XMEye.net from your ISP. For Windows, you can do it from "start", then "command", then type "ipconfig/flushdns" and hit enter.
Try an alternative DNS service. If it's still not working, your ISP is probably blocking 

www.XMEye.net

 so it's recommended to try an alternative DNS service like Google DNS or OpenDNS.
Like every other surveillance application, XMEye can be hacked through its cloud feature (Peer-to-Peer cloud). Attackers can take over this application and all the devices connected to it with little effort.
The XMEye cloud accounts have not been adequately protected and so can be hacked because of the following reasons:
Access to XMEye cloud accounts allows hackers to trigger firmware updates. The updates of Xiongmai devices are not signed so hackers can impersonate the XMEye cloud easily. This allows them to deliver malicious firmware versions of the application that contains malware.
For IOT botnet herders, all Xiongmai devices are the perfect cannon fodder. Botnet herders can now scan the XMEye peer-to-peer cloud accounts and hijack XMEye devices with malicious firmware
Vulnerabilities found with Xiongmai can be used by voyeurs to manipulate and use camera feeds to their advantage. Some cameras have a two-way audio intercom making it possible for an attacker to interact with their victims.
Cyber-espionage groups, also known as Advanced Persistent Threats (APTs), can hack all Xiongmai devices and have used them as entry points into the network of targeted organisations.
These devices can also be used to relay traffic.