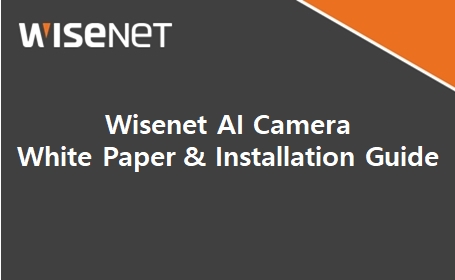 Wisenet AI camera Installation Guide
Since the development of CCTVs, humans have been responsible for simultaneous monitoring of multiple cameras and event detection from each of them. However, the number of video a human can review at the same time is limited, leading to fatal human errors and lowering the efficiency of operation.
To overcome such limitations, AI (Artificial Intelligence) technology is widely incorporated in video surveillance, offering a range of video analytics. AI-enabled Video analytics can identify persons and vehicles and alert meaningful events to operators through attributes extraction and Automatic Number Plate Detection (ANPD). This enabled effective monitoring of more number of cameras and maximized the efficiency of operation.
Hanwha Techwin is offering AI-enabled video analytics with its Wisenet AI cameras. The cameras with AI video analytics have "AI" menu in its configuration page. AI video analytics is used for various features of the cameras. The most notable features include "Object detection", events of "IVA (Intelligent Video Analytics)", "Statistics", and "Digital Autotracking." IVA feature defines virtual lines and areas for persons and vehicles to detect crossing, intrusion, enter, exit, or loitering. Statistics feature provides statistical data of observed people by adopting various conditions for People Counting, Queue management and Heatmap. Digital Autotracking can track detected movements of persons and vehicles in the video.
– Detect persons, faces, vehicles, and license plates from the video  – Extract attributes from detected persons, faces and vehicles
This document is designed to help users better understand and conveniently use our products and features while installing and operating Hanwha Techwin's AI cameras.
Full Documents
[wp-embedder-pack width="100%" height="600px" download="all" download-text="" attachment_id="541″ /]