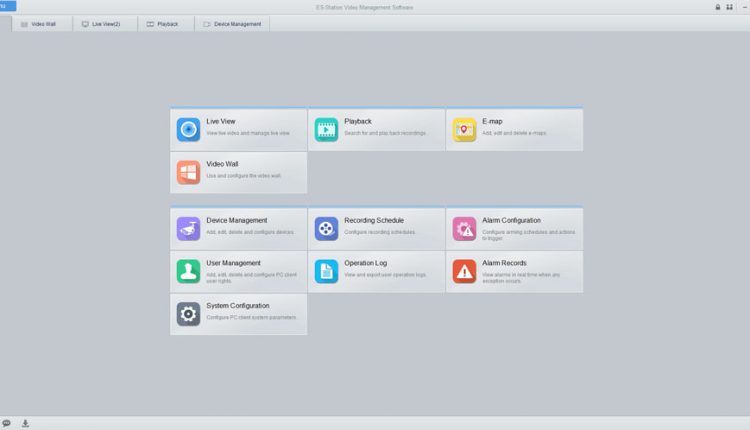 Unified management for Signature IP cameras, NVRs, hybrid NVRs, network keyboards, decoding devices, and etc.
Up to 512 local channels and 512 cloud channels; up to 64 local device and 64 cloud devices; add, edit and share cloud devices.
Efficient device management: Automatic device discovery (or search by network segment); add devices by IP address/domain name; add devices by Eclipse View; add devices and adjust the time in batch.
Diverse functions:
Live view: scene, custom layout, split screen, auxiliary screen display, corridor mode, sequence display, audio, two-way audio
Recording: local recording, alarm-triggered recording, scheduled recording, recording download
Playback: synchronous/asynchronous playback, instant playback, smart search, recording search by time/event, and play recordings on sd card
ptz control: preset, preset patrol, recorded patrol, patrol plan
Alarm: Service alarm (event alarm, VCA alarm), device alarm (online/offline, etc.), alarm triggering (live view, etc.), real-time/history alarm management
People counting: statistics of people entered/left/entered and left, daily/weekly/monthly/yearly report export.
E-Map: hot spot, hot zone, eagle eye, and map alarm
video wall: live view, sequence display and playback on video wall, alarm to video wall, open window(s) by one click, auto bind decoding channel, multi-window for one decoding channel, save and switch scene, small pixel pitch LED, virtual LED
[wp-embedder-pack width="100%" height="800px" download="all" download-text="" attachment_id="677″ /]