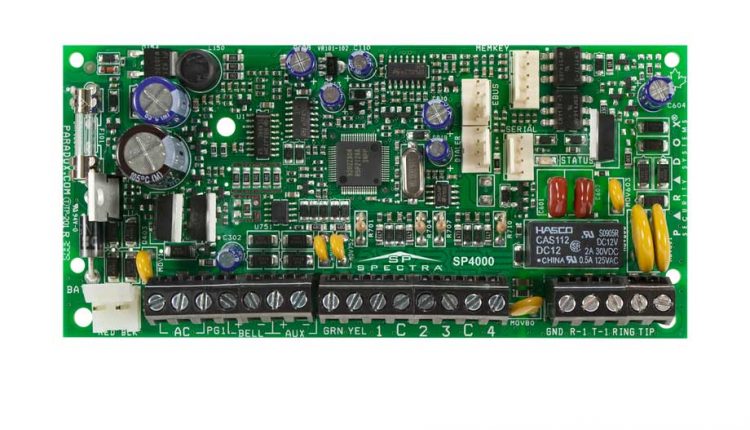 Paradox Alarm SP Series Installation Guide (PDF)
Spectra combines innovative features with an advanced communication bus for a unique expandable security system. Through its communication bus, Spectra can be expanded via wireless and wired expansion modules and a variety of accessory modules. With its reliable communication technology, flexible expansion and great-looking keypads, Spectra is an ideal security system for any residential or commercial installation that requires up to 32 zones of protection.
The Spectra SP series' outstanding reliability easily expands to provide you with more features, such as StayD, more on-board zones (expandable up to 32), more on-board PGMs (expandable up to 16), and support for the Cellular Modules (PCS Series), Plug-In Voice Dialer (VDMP3) and Internet Module (IP150+). With their in-field firmware upgrade capability, the Spectra SP series allows installers to upgrade their system without hassle — quickly and easily. And to further simplify installation, every Spectra panel can be configured using easy-to-follow program menus via a keypad or remotely via the BabyWare pc software.
Feature
SP4000
SP5500
SP6000
SP65
SP7000

StayD

Maximum Zones*

32

32

32

32

32

On-board Zones

4 (8 with ATZ)

5 (10 with ATZ)

8 (16 with ATZ)

9 (18 with ATZ)

16 (32 with ATZ)

Expansion Zones

24

24

24

24

16

Keypad Zones

15

15

15

15

15

Partitions

2

2

2

2

2

User Codes

32

32

32

32

32

PGMs

12
(1 on-board)
16*
(2 on-board)
16*
(2+2** on-board)
16*
(3 on-board)
16*
(4 on-board)

PGM +/- Trigger

–
–

 (via BabyWare)

Supported cameras

–

15

15

–

15

Siren

Wired

Wired / Wireless with RTX3

Wired / Wireless with RTX3

Wired / Wireless with RTX3

Wired / Wireless with RTX3

alarm Relay

–

–

1**

–

1

Event Buffer

256

256

256

256

256

Wireless Expansion

2-Wire Smoke Detector Input

–
–
–

GPRS / GSM Module (PCS Series)

Compatible with IP150+

Compatible with VDMP3




(via PCS250)

Patented 2 opto coupler dialer circuit

–

In-field Firmware Upgradeable
* Any of which can be wireless
** Optional
[wp-embedder-pack width="100%" height="800px" download="all" download-text="" attachment_id="716″ /]