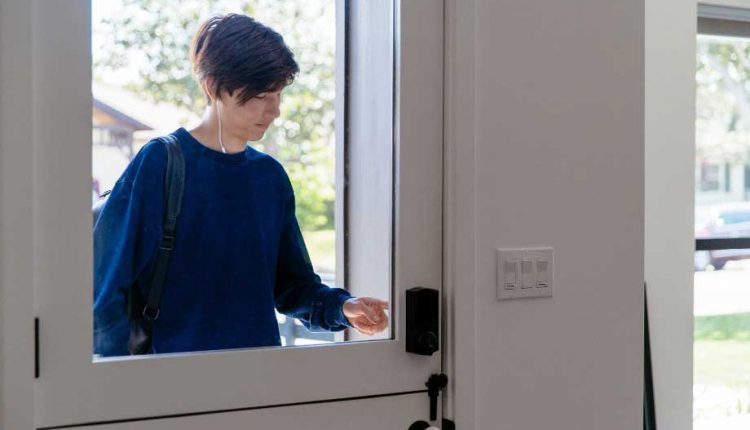 Home Automation The Complete Guide
Imagine how wonderful it would be if your home lights automatically turn on when you enter the room, your doors automatically lock when you exit, and your thermostat automatically ensures your home's temperature is always just right.
All of this is possible and more with home automation. Best of all, being more accessible and affordable than ever makes a smart home a reality.
In this in-depth home automation guide, we will explore what home automation is, how it works, and how it can make your home a more comfortable, convenient and safer place to live for you and your family.
Understanding home automation
Home automation may sound complicated, but the essence of what it is and how it works is actually quite simple.  
What is home automation? 
In a nutshell, home automation is the use of technology to integrate various appliances and systems in the home to automate various functions in your home. For example, when a home automation system is installed, your home has the power to automatically adjust the temperature according to the parameters you set, adjust the lighting, lock the doors or set up your security system.
The history of home automation
Many people think of home automation as a fairly new phenomenon, but in reality, it has been in the business for decades. 
In 1975, the first home automation networking technology was invented and allowed various home appliances to communicate with each other. In these early days, this technology was mainly used for appliances and lamps. 
Smart home technology has continued to advance and become more sophisticated, and by 2012, more than 1.5 million homes in the US had some form of home automation. As more and more people began to see the benefits of home automation first hand, the demand grew. Today, home automation powers around 42 million smart homes.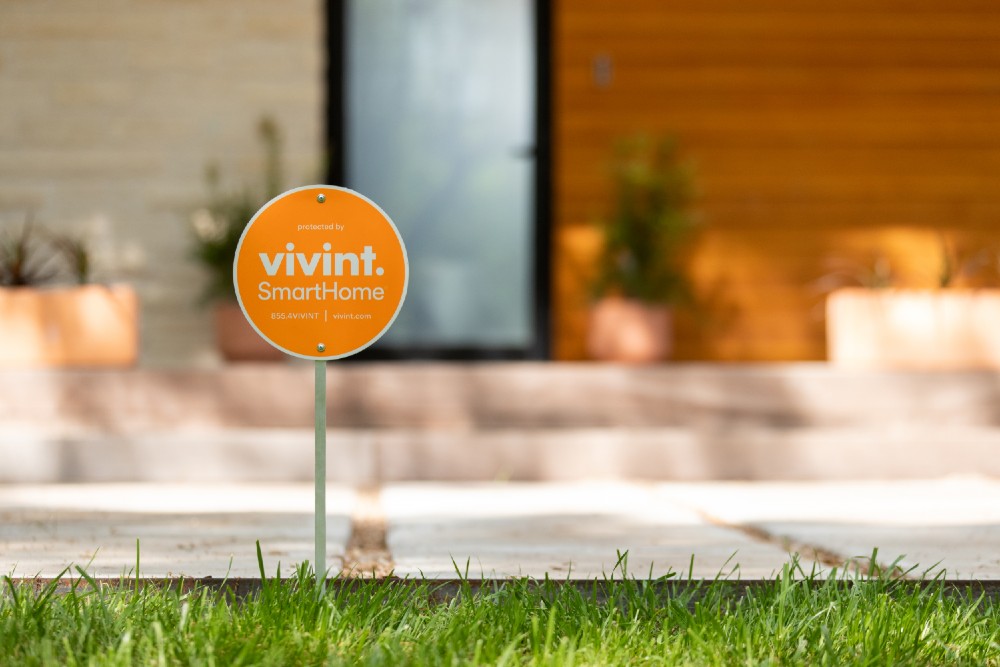 Basic components of home automation
There are different levels of functionality when it comes to home control and automation. These include the following.
Automation 
With a complete home automation system setup, you can automate various functions in your home so that one action triggers another. For example, your smart thermostat adjusts the temperature to save energy when you leave or arrive, or the entryway lights turn on when the front door is unlocked.
Control
Another important part of an automated home is the ability to control your home remotely. Using an app on your smartphone, you can turn lights on and off, lock or unlock doors, or arm or deactivate your security system from anywhere, to name a few.
Tracing
This is the most basic level of home control to be able to monitor your home remotely. For example, you can log in to an app to check the temperature of your home, monitor your surveillance camera feed, or see if your garage door is open. 
When all of these work together, you can enjoy a complete home automation system and make life easier for you and your family.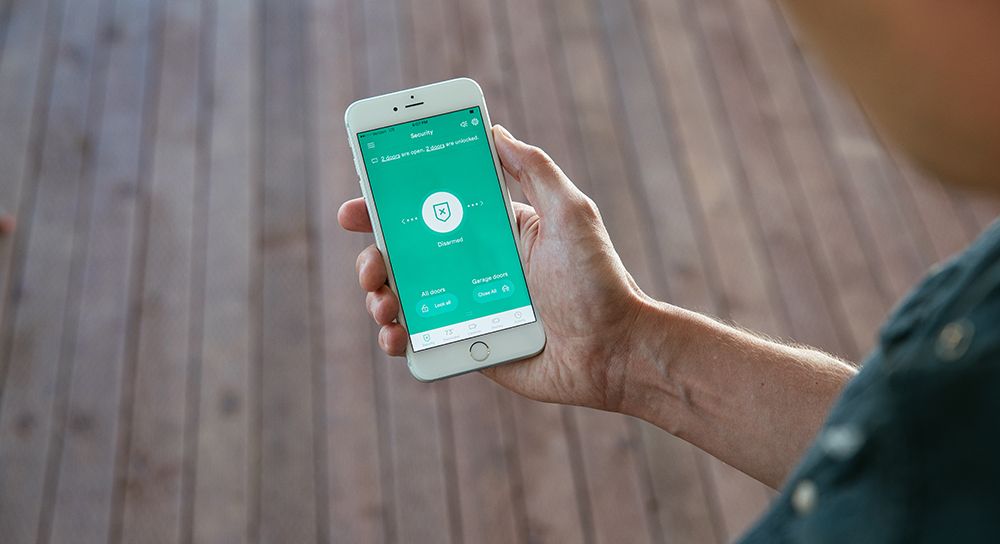 How does home automation work?
Now that you know what home automation is, let's take a deeper dive into how it actually works.
Home automation network
For home automation to work, devices must be connected and able to communicate with each other. As home automation has grown in popularity, many companies have developed their own smart home devices.
As stand-alone devices, these smart products often speak their "language". This means they are not always compatible when put together.
You can build a smart home by buying devices that are already compatible with each other or using a central hub that "translates" for each device and allows them to be integrated.
There are various home automation network protocols that can connect your devices with each other. The most common are:
Wireless Internet. 

WiFi brings the Internet to your home and helps you connect your smart devices. Many smart home hubs, for example, operate over WiFi.

Bluetooth. 

You probably already use Bluetooth technology on your phone to connect speakers and headphones. You can also use it for smart home automation. The downside of Bluetooth is the proximity required for it to work.

Z-Wave. 

Z-Wave is another form of connection. Smart devices connect to a Z-Wave hub, which then allows them to be linked together via a mesh network. In simple definition, a mesh network creates multiple WiFi points around your home. This allows the signals to pass from one device to another without the need for each device to connect to WiFi. This prevents your router from overloading and your devices losing their signal. Millions of devices around the world have Z-Wave connectivity.

Zigbee. 

Zigbee, another mesh network, is known for its security and long range. While considered a trusted network, it shares the 2.4GZh frequency with most Wi-Fi devices, making interference possible.

Topic. 

This mesh network is fairly new to the market and is an IP-based, open standard protocol (currently numbered over 250) that includes direct Internet and cloud access for each device it connects to.

Insteon. 

Insteon has a patented dual-band system that uses both existing power lines and radio frequency communication to connect your Insteon smart devices.
Before you start adding devices to your home automation system, it is important to know the network protocol (s) your smart devices are compatible with.
Home automation and smart homes 
It's hard to talk about home automation without mentioning smart homes. Although these terms are sometimes used interchangeably, they are actually two different things. 
Smart homes  refer to homes that  contain a variety of smart devices that are integrated with each other and can be controlled remotely with a smartphone app  .
Home automation  is  something smart homes  do . When your devices are connected and able to communicate with each other, you can make various tasks happen automatically or trigger other events inside the house.
What can smart home automation do? 
Let's take the smart thermostat as an example. One of the most popular smart home devices, the smart thermostat is a great example of home automation because it learns your temperature preferences and routine and then automatically  adjusts the temperature in your home based on those preferences  .
So if you are away from home all day for work, your smart thermostat knows this and helps you save money while away from home by adjusting your temperature accordingly. But what if you come home early or stop by for lunch? Motion sensors can detect when you are at home by adjusting the temperature without having to lift your finger.
Certain actions in a smart home can also trigger other smart devices; home automation, for example, allows you to program your entrance lights to turn on when you unlock the front door. 
Pretty cool, huh? But this is just the beginning. Other examples of home automation include: 
Lighting that turns on when you enter a room and turns off when you leave.

Doors that lock automatically after a specified time.

Sprinkler systems that monitor the weather for you and adapt your irrigation schedule accordingly. 

Doors opening for easier escape if a smoke detector explodes.

Water sensors that monitor humidity and temperature levels and then immediately notify you when moisture is detected.

security cameras that automatically detect what is hidden and start recording.
There are hundreds of ways to bring home automation into your home, provided you have the right devices and technology.
Why smart homes?
Home automation can benefit everyone, everywhere. Some of the benefits of smart home automation include:
Control from anywhere. 

With a smart home, you can control various aspects of your home from a different room or different situation from an app on your smartphone. You don't need to run home to let a mechanic in, or call your neighbor to check if you've left a door open – you can do everything in the palm of your hand.

More accessibility. 

Smart home automation also provides greater accessibility to your home. For example, you can control the camera feeds remotely.  

Ease. 

Home automation makes life easier. The ability to automate functions in your home allows you to focus on other, more important things.  

Comfort. 

With home automation, your home is a more comfortable place to live. You can adjust the lighting according to the time of day, or you can automate your thermostat so that it always adjusts to your preferred temperature. 

Hands-free control. 

For people with disabilities, smart home technology can help them access and control their home through hands-free control. Many functions such as lighting and temperature can be voice controlled with a smart speaker. 

Safety. 

Forgetting to lock a door or accidentally leaving a garage door open can endanger the safety of your home and family. However, with home automation, your smart devices will automatically keep your home safe or notify you if you forget to lock it. Adding professional monitoring to your security system adds an extra layer of protection.

Saving. 

Did you know that home automation can also help you save money? By turning off the lights when not in use and automatically adjusting the temperature, you can save on your monthly bills by not heating or cooling an empty house. To give you an idea, a smart thermostat saves homeowners up to 12% on energy bills each year. 

Energy-saving. 

With home automation, you save both money and energy. For example, you can reduce your carbon footprint by saving energy with lights that automatically turn off when no one is home.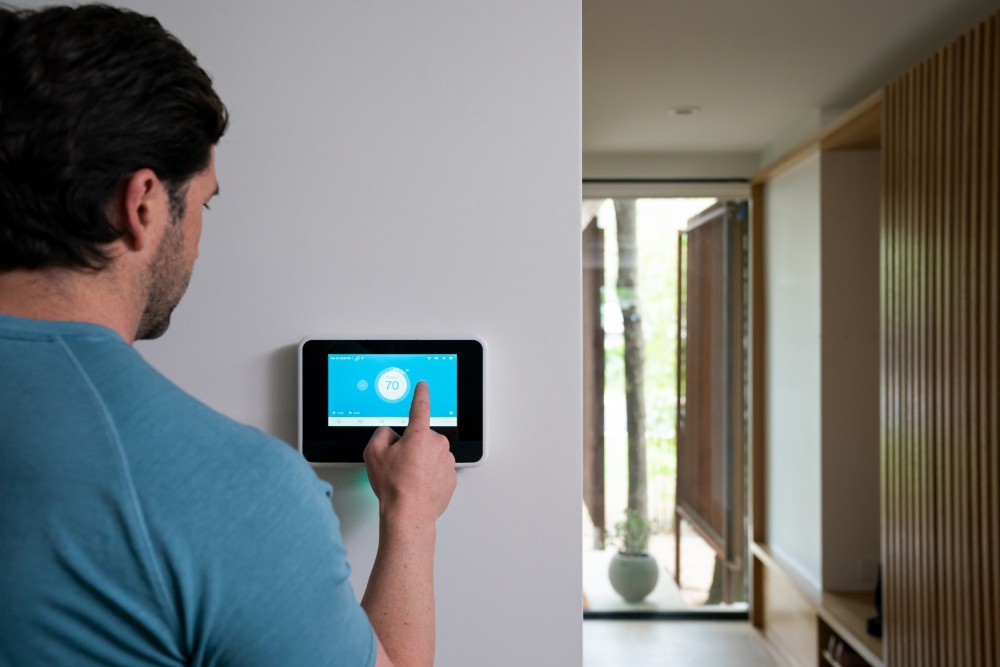 What can be automated?
Go to any electronics or home store and you will find that many devices, from kitchen appliances to thermostats and door locks, have the ability to connect to the Internet and be part of a smart home.
With this in mind, some of the most common and popular systems in the smart home automation category include:
Temperature and climate control

Home security

Indoor and outdoor lighting

Fire and carbon monoxide monitoring

Entertainment

Air purification

Cooking utensils

Home Care
Within each of these categories, you will also find specific devices with a variety of features and capabilities.
How you determine your needs
As you can see on the market today  too  there are many smart devices. With so much available, determining what you really need and what you don't need for your smart home can be daunting.
The first thing you want to do is identify your needs. You can do this by looking closely at your lifestyle, what is important to you, and your personal preferences.
Here are some questions you can ask yourself to determine your needs:
Am I often away from home? 

If you travel frequently or spend long days at the office, you can take advantage of a smart home security system, home automation features such as lighting control or automatic door locks, or water and temperature settings that alert you to potential leaks or HVAC issues. walk away.

Am I a parent staying home? 

For parents staying at home, a doorbell camera that lets you answer the door remotely or indoor cameras that let you control a sleeping baby without opening the door can be useful.

Do we have guests often? 

Smart locks that eliminate the need for spare keys can be useful if you host guests at night or have frequent fun.

Does my family order lots of online orders? 

The average American receives 21 packages each year. If you get a lot of deliveries, a doorbell camera that notifies you when a package has been delivered and protects you from porch pirates makes perfect sense.

Did you get help at home? 

Housekeepers, dog walkers, or others who may need to access your home can do this with keyless entry and eliminate the need to make multiple keys.
As a result, the best smart home devices for your home and family depend on your lifestyle, schedule, and what makes life easier for you in general.
All about smart home devices
Now that you know what can be automated and you have a general idea of ​​what you want to automate, let's take a deeper dive into the various devices you can integrate into your home.
Smart hubs and home automation controllers

 . As mentioned earlier, most smart homes require a central hub to keep their devices working together.

Smart home application. 

You will control your smart home devices through an application. Or, if you're integrating multiple devices, you may need separate apps for each device.

Thermostats. 

Smart thermostats such as the Vivint Element Thermostat use indoor sensors and local weather information to learn your temperature preferences and then automatically adjust accordingly.

Door locks. 

With smart door locks like the one on Kwikset, you can lock and unlock your door via an app. You can also set unique codes for each family member or guest so you always know who's coming and going.

Smoke alarms. 

A must in every home, smart smoke alarms can detect both smoke and excessive heat and trigger the alarm before smoke is detected.

Carbon monoxide detectors. 

Combined with home automation, you will be notified when a CO detector rings in your home, whether you are at home or not.

Intelligent lighting. 

Philips Hue's smart lighting allows you to switch lights on or off with your smartphone or your voice. You can also automate the lighting when you enter a room and turn it off when you exit.

Intelligent sockets. 

It can turn small devices plugged into outlets like smart plugs, lamps or fans into smart devices that you can control with an app or your voice.

Water leak detector. 

Water sensors, another smart home device that can help mitigate a potential disaster, notify you when a leak or excessive moisture is detected.

Smart TVs. 

Smart TVs automatically connect to the Internet, allowing you to access preinstalled streaming, news and entertainment apps directly from your TV. You can also integrate your TV with your smart speakers.

Security cameras. 

Security cameras include both indoor and outdoor variants. Indoor cameras such as the Vivint Ping feature a wide-angle lens, two-way talking and one-touch callout, and doubles as a way to keep in touch with loved ones while providing a clear view.

Outdoor cameras. 

Intelligent outdoor cameras; Includes HD video quality with night vision, motion sensitivity adjustment (so you won't be notified every time a bird passes by) and weatherproof features.

Doorbell cameras. 

Doorbell cameras let you see who is at your door. Most have a two-way conversation feature so you can chat with whoever is at the door. Vivint's Doorbell Camera Pro goes one step further by offering proactive packet protection.

Home care devices. 

Who wouldn't want smart devices to help you clean? Robot vacuum cleaners are a popular tool that you can adjust and forget, so after a long day you are back on a newly swept or vacuumed floor.

Exterior care. 

Sprinklers can also be a part of home automation, monitor the weather and adjust the irrigation schedule accordingly, so you don't have to rush to shut down your sprinklers if it starts to rain. Robotic lawnmowers also help keep your lawn well-maintained, making your weekends comfortable.
Checking your home automation setup
An important part of your overall smart home automation setup is how you set up and control your system and devices.
Do you need professional installation?
For some people, part of the appeal of home automation is the ability to install it yourself. If you want to install a smart home device or two, like a smart thermostat or maybe a smart front door lock, you can probably do it yourself.
However, when you want to take advantage of all the home automation with a complete smart home ecosystem of interoperable devices, professional setup is the way to go. This has many benefits, including:
Everything works in harmony. 

Your smart home is a great investment. To take full advantage of your investment and enjoy the many benefits of home automation, devices must be able to work together.

It saves you time. 

Researching compatible devices, setting up your devices, syncing them, and testing them to make sure they get their average running hours. Add to that the time you spend on the phone with tech support, going to and from the store to replace devices or get more equipment (or wait for it to come online) and the average smart home setup can take days if not. weeks, fully up and running. Professional installation from an expert is worth the time it saves.

Expert input. 

Professional installers will help you decide on the best placement for your devices, train you on how to hide cables and how to use each device.
Whether you invest in a complete smart home system or want to take full advantage of home automation, professional setup from a reputable smart home company will help you get the most out of your investment.
Application control
Most smart devices come with apps that you can control. The advantage of a complete home automation system (over standalone devices) is the ability to control your entire smart home through a single application.
For example, you can control and watch your home from anywhere with the Vivint Smart Home application. You can also receive notifications and alerts that let you know things like a temperature drop in your home, a visitor arriving at your front door, or a smoke alarm triggered.
Using voice assistants
Smart speakers like Amazon Echo and Google Home are definitely considered smart home devices, but they can also  be used to control your smart home devices  .
You can use your smart speaker's voice assistant (" Alexa  " for Amazon or " Hey, Google  " for Google Home) to  create lists, set alarms, play songs and even prank your kids  .
Smart assistants also help automate various functions in your home. For example, if you settled in bed and find the temperature a little too cold for your liking, you might say "Hey Alexa, raise the temperature 2 degrees." Or if your kids parked their bikes in the garage and forgot to close the garage door (you know thanks to your smart home app notification), you can ask your smart assistant to close the garage door.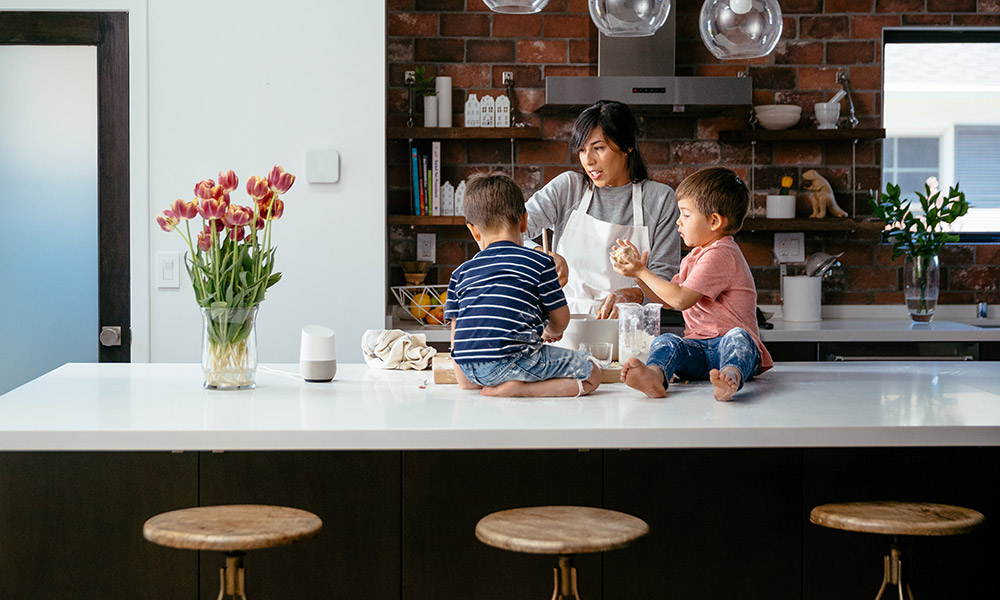 Smart home security and security
We have already mentioned security as the main benefit of home automation. Smart home devices such as smart door locks, doorbell cameras or garage door control add an additional level of security to your home.
You can take this one step further by integrating a home security system into your smart home or workplace. In addition to smart door locks and cameras, a smart security system should include:
Door and window sensors. 

Door and window sensors turn on the alarm if the alarm is set, the door or window is opened, or the glass is broken.

Motion sensors. 

Strategically placed motion sensors throughout your home will capture all unexpected movements (excluding pets).

24/7 monitoring. 

Professional monitoring ensures your home is protected around the clock. And if an alarm goes off while you're away, the monitoring company will contact the authorities on your behalf.
Home security and home automation
Home automation and home security fit together perfectly.
A complete Vivint Smart Home system combines home security with home automation, upgrading each system's capabilities to make the smartest, safest home possible.
For example, if smoke is detected, your Vivint system will automatically trigger your smart thermostat to slow the spread of fire and cut off the airflow. It also opens the way to safety for your family by automatically unlocking your front doors. Or if carbon monoxide is detected, your system will automatically lock the front door, disable the window sensors, and activate the oven fan to help ventilate your home and clean the air of dangerous CO levels.
Also, you can automate many functions of your security system. You can set your doors to lock automatically and turn off your lights every time you activate your security system. When you are in a hurry to get out of the door, think about how appropriate this would be.
Put it all together
Home automation makes it easier than ever to put you in control of your home. Whether you want to automate tasks and systems at home or control them yourself wherever you are, home automation makes it possible.