For many years, sophisticated security systems including cameras, facial recognition, and sirens were reserved for businesses or wealthy homeowners. However, thanks to the global market and companies like Amazon, tech has gotten more affordable and accessible than ever.
A home security camera system is one of the best investments you can make to insure your household's safety. However, there are many on the market ranging from affordable to high-end, with features that may not be right for every home. How do you narrow down which security camera to buy?
When making a decision on which camera is right for you, there are three main areas to think about.
These include practical concerns such as how the camera is powered and mounted, the specs and features of the camera itself, and additional features, perks, and controls that the system may have.
Installation Concerns
Homeowners may tend to overlook this area, blinded by the bells and whistles of multi-use security camera systems. This is a mistake, as they may end up with a device that they can't use or one that isn't optimally suited for their environment. I know this because when I traveled, I opted for a low-quality security camera on a friends recommendation and came back from vacation with an empty safe. Some common practical concerns include:
The size and weight of the unit. Can you mount it securely under the eaves, over a door, or to a tree outside?
Weatherproofing. Will the device stand up to extreme heat, cold, dust, ice storms, or whatever else your environment can throw at it?
power. Does the device have a battery, which you'll have to regularly check on and replace? Can it be wired to the house's power supply, limiting where the camera can be placed? Does it connect to solar panels, requiring an environment with enough sunlight? Or is it a device with multiple power systems, raising the price and complexity of the unit?
Ease of installation. Is this something a DIY homeowner can do themselves with a few tools, or will it require the extra expense of bringing in the professionals?
Camera Specs and Features
The camera is the star of your system, and what you'll want to spend a lot of time looking at. Cameras vary on a number of features including the quality of image it produces, additional functions such as night vision, and how and where the camera stores its video feed.
Image quality. Budget cameras often mean sub-par image quality, but that's not always the case. Look around and you can find some models that record in 720p or 1080p and offer broad viewing angles of 100 degrees or more. For higher-end cameras, quality is rarely an issue and 1080p is fairly standard.
Night vision. Nighttime is one of the biggest areas of concern for homeowners, so naturally, you want your camera to be able to function at night. Many cameras include infrared capability. The range of the night vision varies so make sure you're getting a useful visual distance.
Where does the video feed go? Does the camera store to an sd card, which you'll need to manually remove to transfer the data? Does it go to your smartphone, or upload to services like Dropbox? For the greatest security, you want the data to be backed up in multiple places. Another factor is how many days of footage are archived. If you aren't happy with the number, you may be able to purchase additional storage space.
Extra Features
Certain additional features can add to the functionality of your security system, creating a much safer home environment. Depending on the feature, these can also drive up the price. That's why you need to spend some time thinking about what you need. Here are some relatively common camera system bonus features:
Two-way communicators. These allow the security camera to pull double duty, letting you get a look at visitors at the door and talk to them.
Smartphone integration. This allows you to access video feed remotely, flash lights, sound alarms, deactivate triggered systems, and more. This may or may not require a subscription to a service. Not all cameras integrate with all kinds of smartphones (Android, IOS, and Windows) so check ahead to make sure it's compatible.
Sirens. So your camera has detected intruders or wild animals. Do you want to scare them off? A blast from a 100+ decibel siren will do the trick. Note that these sirens may violate local noise control laws, so check ahead of time before making the purchase.
Lights. Some cameras come with motion-triggered floodlights, adding an extra level of intruder deterrent and increasing the camera's nighttime functionality.
Day in review. This feature compresses a full day's video feed into a short (typically 5 minutes or less) preview, letting you glance over activity around your home in a time-efficient way.
Multiple cameras. Some of the listings here are for two camera systems, which let you set up a more comprehensive web of security around your property for a reasonable price.
Editor's Pick: Logitech Circle 2 Combo Pack
Why do we recommend the Logitech Circle 2 Combo Pack? This camera comes with a midrange price tag and higher range features which include:
Convenient installation in a wide variety of locations thanks to its included window mount.
Two 1080p cameras with night vision and advanced motion filtering.
A Smart Timelapse Day Brief, which gives you a brief highlight of the last 24 hours of recording.
If you want to learn more about the Logitech Circle 2 Combo Pack, see our full writeup below in the Under $400 section.
---
1. Ring Stick Up Cam Battery Security Camera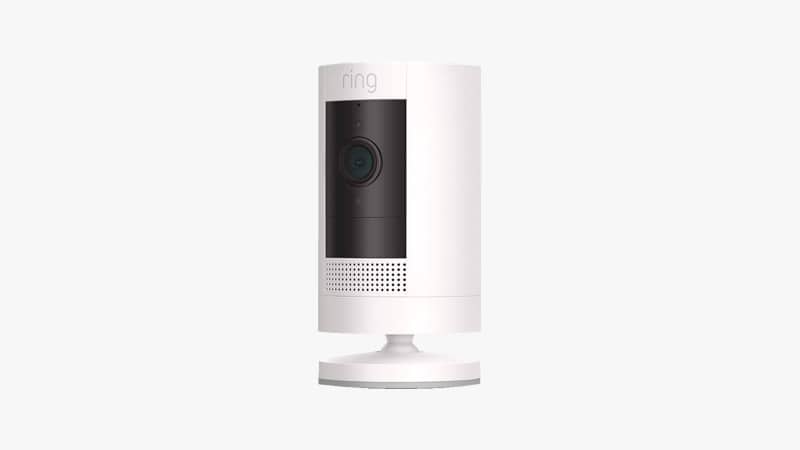 If you're looking for a budget camera, Ring's Stick Up Cam Battery is the first product you should check out.
The wire-free Stick Up Cam offers video recordings of up to 1080p in a 130-degree diagonal field of view. It sends motion-activated real-time alerts to your smartphone via the Ring app. You can pair it with Alexa and Alexa-enabled devices for hands-free monitoring.
This device comes with 2-way audio with noise cancellation so you can talk to whoever is at your doorstep. Plus, it is battery-powered, but you can charge it with an optional solar panel.
Alternatively, you can enable Ring Protect, a service that saves all your videos for $10 per household per month. Note that it detects motion only if you set it to "Away" mode.
Features:
1080p resolution and night vision
130-degree field of view
Wire-free
Motion detection
2-way audio
Battery and solar-powered
Connectivity with Alexa, Alexa-enabled devices
Wi-Fi Smart video control
---
2. UOKIER Wireless Security Camera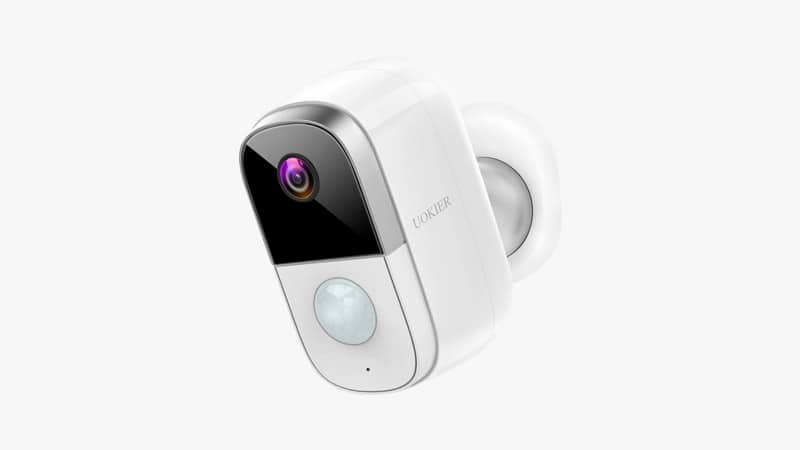 Another budget camera comes from UOKIER. If you always wanted to have surveillance around your house but your budget didn't allow it, check out Wireless Security Camera.
This waterproof, 2-way audio camera gives you up to 1080p videos with a 130-degree field of view. It also has infrared night vision, so you can see what's happening outside during the night.
The security camera stores up to 128 GB on a MicroTF card which you have to buy separately. Moreover, you can use UOKIER Cloud storage, with a 7-day free trial to see how you like it and after that pay a monthly fee if you decide to take it.
What's cool about this camera is is the PIR motion detection and multiple user feature. More people can view past recordings at the same time. The main account can access the cam and share videos with others through encrypted transmission technology.
Features:
1080p resolution and night vision
130-degree field of view
Wire-free
PIR motion detection
2-way audio
Battery-powered
CloudEdge controller app
---
3. HeimVision HMD2 Wireless Security Camera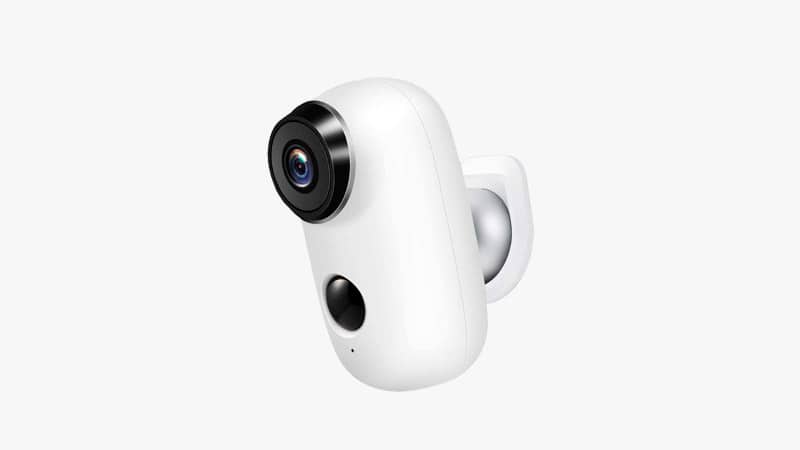 The second on the list, HeimVision HMD2 Camera is an affordable option for those who are on a budget but would like to feel safe and have a decent outdoor camera.
HeimVision is a weather-proof, wire-free camera that offers a 1080p video and captures motion even during the night with a 130-degree field of view. The PIR sensor recognizes mammals and can send alerts to your phone via the HeimLife app every time it detects one.
The 2-way audio gives you the luxury of talking to anyone near the camera, while you can either save your videos to the MicroSD card or upload them on the HeimLife cloud service on 7-day unlimited storage for 48.99$ per year.
You can connect it to the HMS1 Solar Panel and charge it with the help of the sun. One charge can last up to 4 months.
Features:
1080p resolution
Weather-proof
Wire-free
130-degree field of view
PIR sensor
2-way audio
Battery and solar-powered
---
4. blink xt2 Home Security Camera System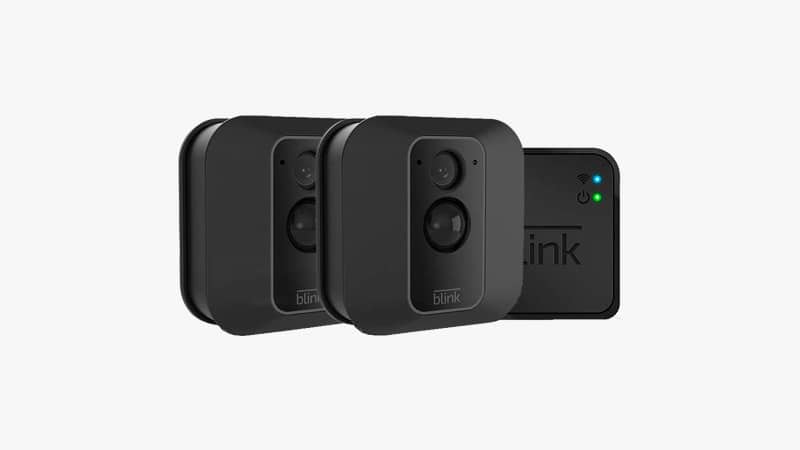 The sleekly designed Blink XT2 Home Security Camera has many of the features of premium units without the higher price tag. This device is good for people who have basic security needs and want a unit that's straightforward to use.
The Blink XT2 is fully weatherproof for use both indoors and outdoors. There's no subscription fee, and it comes with free 1-year cloud storage for video data, as well as a 2-way audio system.
This unit runs on 2 AA lithium batteries and features a two-year battery life. It connects via Wi-Fi to your computer and detects motion, allowing an easy live view home monitoring (but it doesn't support RTSP or Onvid.) You can program it to send an alert to your smartphone as well as provide a video feed. Security continues 24 hours a day as this camera has a night vision function and films 1080p videos.
Another great feature of the Blink is that it connects with Alexa and Alexa-enabled devices, allowing you to operate it remotely by voice.
Features:
1080p resolution and infrared night vision
Weather-proof
Wire-free
110-degree field of view
Motion detection
2-way audio
Battery-powered
Connectivity with Alexa, Alexa-enabled devices
Wi-Fi Smart video control
Free 1-year cloud storage
---
Best Outdoor Security Camera Under $200
5. TP-Link Kasa 2 Camera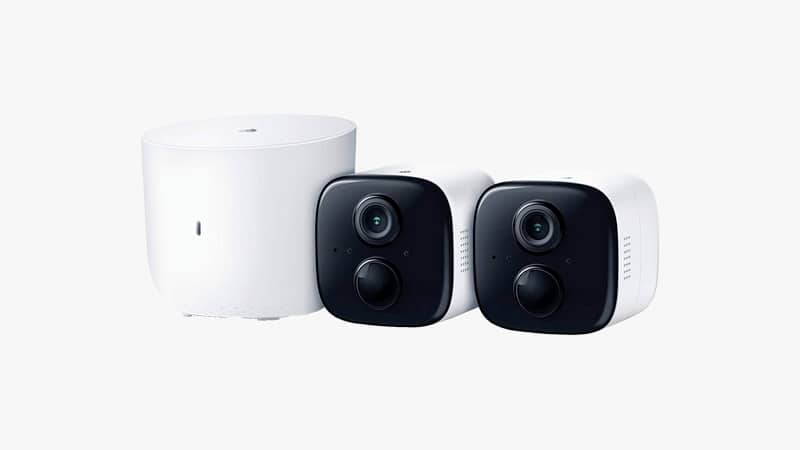 TP-Link Kasa 2 is an excellent outdoor camera for anyone looking for a faster magnetic mount setup and a good video image.
The Kasa 2 offers 1080p resolution with a 130-degree field of view. This two-pack has an extremely reliable night vision feature that can detect movement and sound up to 25 feet away.
It has no wires and comes with a rechargeable battery, as well as a built-in anti-theft siren. Plus, you can use the 2-way audio to communicate with your neighbors and family at the door. In case there's bad weather coming, don't worry – the Kasa 2 is weatherproof and protects your videos from dust and rain.
You can watch those videos wherever you are with the free Kasa Smart app, as well as live stream video to any Alexa or Google Assistant-enabled device, like a Fire TV or Google Chromecast.
Features:
1080p resolution and excellent night vision
130-degree field of view
Wire-free
Weather-proof
2-way audio
Anti-theft siren
Connectivity with Alexa, Alexa-enabled devices, Google Assistant, Google Assistant-enabled devices
---
6. Canary Flex HD Security Camera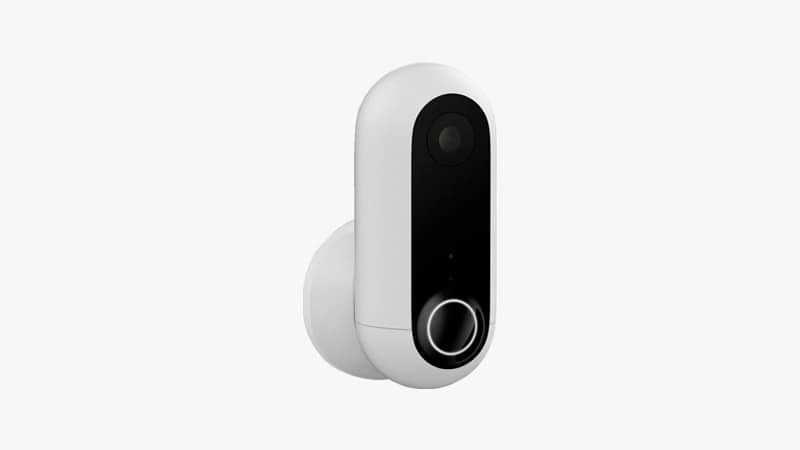 The Canary Flex offers a good balance of features, but shines when it comes to outdoor use. This unit is dual-powered, either wire-free or plug-in depending on your preferences. It's compact and easy to install.
The Canary Flex is ruggedly designed, especially when compared to similarly priced units. It has extremely tough weatherproofing. This camera is tested as rain-proof, snow proof, and functions from -4 to 113 degrees Fahrenheit.
If you're looking for motion detection, the Canary Flex features an intelligent version that sends alerts directly to your phone. This camera offers a wide variety of features including a 360-degree swiveling base.
The Canary is compatible with Amazon Alexa, allowing you to stream video to Echo Show. Its night vision is operated automatically, switching on in low lighting.
Features:
Connectivity with Alexa
Full HD video and night vision
One-touch emergency services
Automatic mode and Wi-Fi integration
2-3 month battery life
Built-in microphone and speaker
---
Best Outdoor Security Camera Under $400
7. eufy Security Camera System by Anker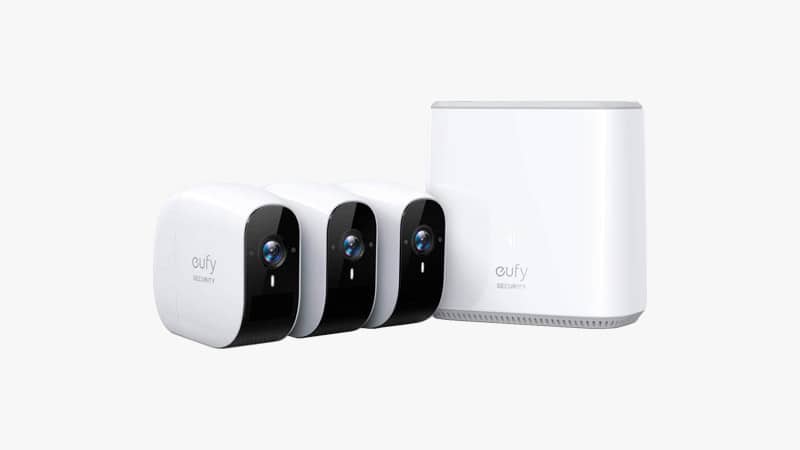 Eufy is a 3-cam kit that offers more than you need to secure your backyard. It has an astounding 365-day battery life per one charge.
Although it doesn't have a facial recognition feature, the video records in a 140-degree field of view and 1080p resolution during day and night. Plus, you will install it extremely easily, either by sticking it on the magnetic mount, by screwing on the outdoor mount or sticking it on metallic surfaces.
The system stores the videos on a 16 GB MicroSD card – about 1 year's worth of recordings, or 10 30-second videos daily and has 2-way audio for easier communication with the person at the door.
Eufy is weatherproof and provides clear low-light footage during the night. But what's best about it that it shows you videos in real-time via eufySecurity app, warns trespassers they're on camera and has a built-in 100-decibel anti-theft alarm.
Features:
1080p resolution and clear night vision
140-degree field of view
Wire-free
Weather-proof
2-way audio
100-decibel anti-theft alarm
Connectivity with Alexa, Alexa-enabled devices
---
8. Logitech Circle 2 Outdoor Security Camera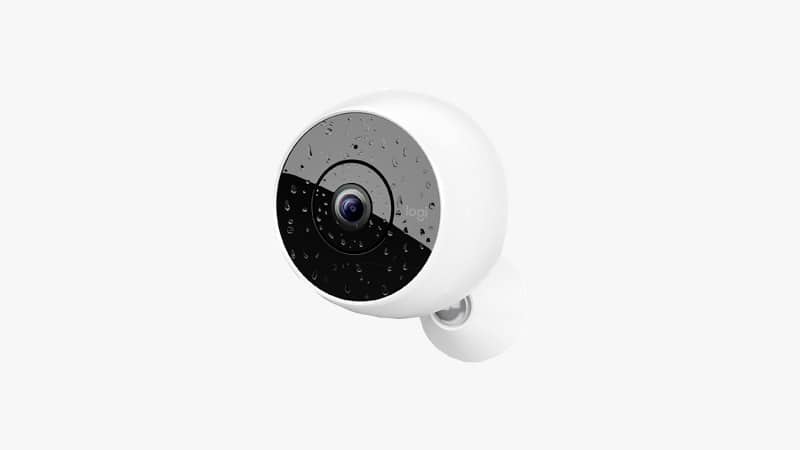 The Logitech Circle 2 Combo Pack features two indoor/outdoor wired cameras with built-in microphones and a camera mounting accessory. These need to be connected to your home's power supply; they are not battery only.
This has the advantage of you not having to remember to change the batteries or have the cameras switch off unexpectedly. The disadvantage is that they do not function when there is a power blackout in the area.
Both of these cameras are equipped with 180 degrees, 1080p lenses with night vision capability, allowing you to have a clear view of a wide area. The included window mount allows you to use a unit safely inside while still being able to see out. The mount attaches to any glass pane and can be removed without damaging it.
One thing the Logitech offers that many more inexpensive cameras do not is the time-lapse day brief. This lets you see the last 24 hours of activity around or in your home, compressed into a 30-second recap. The unit also offers 24 hours of cloud storage. Upgrade to the Circle Safe Subscription Plan for a wide range of security benefits.
Features:
1080p full HD and night vision
Easy setup and control through the App
Smart alerts
Advanced motion detection and filtering
Time-lapse Day Brief
---
9. Panasonic HomeHawk Outdoor Home Security Camera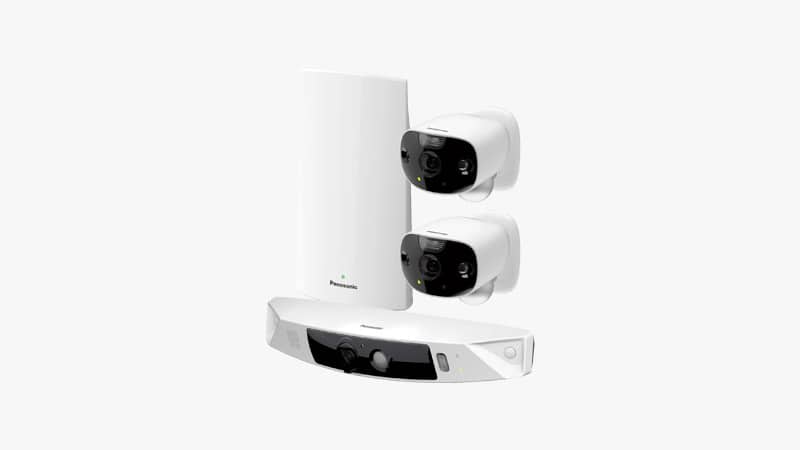 Panasonic HomeHawk is another high-end weather-resistant outdoor security camera that offers HD video recordings.
HomeHawk can cover the entire house and yard. You can add up to 16 cameras total and control everything via the free HomeHawk Android and iOS app.
The 720p camera offers a 172-degree view and color night vision. You can store the videos on the base unit instead of the cloud. The built-in MicroSD card can store around 9 hours of video on a 4 GB card.
It is a wire-free system that uses Panasonic rechargeable battery technology and has 2-way audio, which enables you to talk to your pizza delivery guy. Also, you can control it with Alexa, Alexa-enabled devices, as well as with Google Assistant.
Features:
720p resolution and color night vision
172-degree field of view
Wire-free
Weather-proof
2-way audio
Solar charging
Connectivity with Alexa, Alexa-enabled devices, Google Assistant
---
Best Outdoor Security Camera Under $500
10. Arlo Pro 3 by Netgear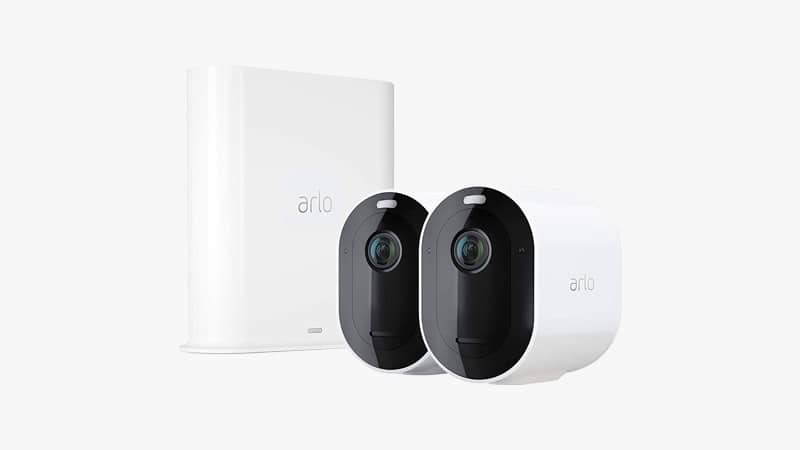 What do 500 dollars get you? A lot of features. This two camera set excels at detection, deterrence, and ease of use.
Arlo Pro 3 is a weather-proof camera that has three different features. The first is that it gives you 2K HDR video. It also has 2-way audio, so you can communicate with the person at the door. Finally, you can use the Arlo Pro 3 has a wire-free setup and use magnetic mounts for easy adjustment.
It has an image sensor of 4 megapixels and a maximum video resolution of 2560 x 1440p in a 160-degree field of view.
You can live stream feed to your phone and receive security notifications on demand. With Arlo Pro 3, you can decide whether to see the color or black and white night vision. Plus, it has a built-in spotlight, meaning you can ward off unwelcome guests.
With Arlo Pro 3, you'll get 3 months of Arlo smart service. But the coolest feature is that you can charge it with the help of solar power with a solar panel charger.
Features:
2K HDR resolution and color night vision
160-degree field of view
Wire-free
Weather-proof
2-way audio
Solar charging
Connectivity with Alexa, Echo Show, Fire TV, Google Assistant