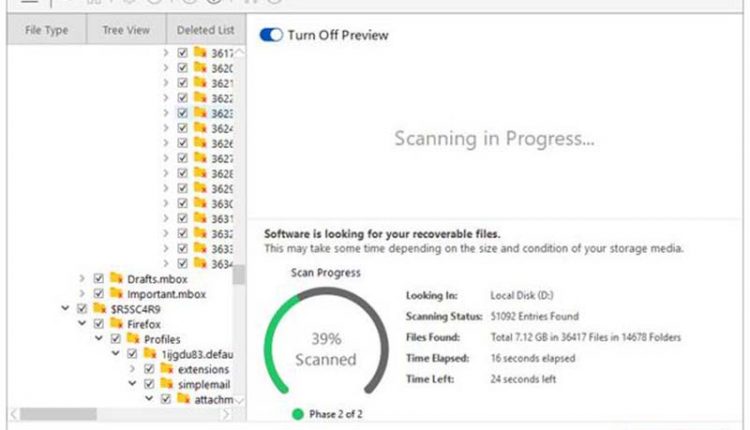 How to recover lost videos from your CCTV system
For many reasons, you may lose your CCTV footage or video. Imagine something happened on your property/establishment and the footage from your CCTV surveillance system is damaged or not accessible. You may have gotten the best home security system, the best dvr/NVR, however, technology may have its glitches. It cannot be avoided that devices and equipment might malfunction at times. This is the reason why reputable companies have warranties and technical support that go with their products.

What causes video loss in security systems?
There are several reasons why video loss occurs. The main reason is software or hardware issues. There are instances when these issues affect saved videos, therefore either corrupting it or leading to the loss of these videos and images.
Aside from software or hardware issues, security camera video loss may also be due to power supply, wiring, and internet connectivity. There is also the factor of human error. In other words, there are times when we accidentally delete some videos caved on our security cameras. The security camera video loss issue may also be due to defective infrared night vision, old firmware, loss of radio signal, or hard drive corruption.
It's always recommended to keep your CCTV system and IP camera update to the latest firmware. At the same time you need to check them periodically, such as the power supply or the hard drives itself. Make it a routine check.
Restoring videos from backup
You can restore the videos from the backup. This is the reason why, during set up and installation, you need to maintain the backup of your security camera videos and images at external drive. You can restore these lost videos from there.
A good thing to do is to save in the cloud. You will not encounter the problem of accidental deletion or other issues about video loss if you store in the cloud. It also leaves more space on your security camera recording device. Cloud storage also allows for easy access to your security camera videos regardless of where you are or what time you access these videos.
This method won't work if you didn't save any backup files or if you're not using the cloud storage. Check out next methods below.
Recover Lost DVR/NVR Videos
You can recover DVR/NVR videos at the data recovery center. This is usually the last method to do when all else fails. This is applicable when the DVR/NVR drive is physically damaged. If this is the case, images or videos may be recovered at a data recovery center certified by ISO. They are capable of retrieving such data securely and safely from damaged external or internal hard drives. This method may be financially costly but sometimes it's worth it, especially if the videos may help you win at court.
Accidentally or intentionally deleted videos may also be recovered. You can do this with the help of a Removable Disk Drive. The removable disk drive is capable of retrieving data from various digital media storage devices. To do this, connect the target SD card to your computer using a card reader. Then you can go on with the recovery process.
Recovering CCTV lost video by using video recovery software
Stellar Photo Recovery
The Stellar Photo Recovery software can help you recover these lost videos if you have not maintained a backup of lost videos or images on your security camera.

Here are the steps to recover your files:
1. Launch Stellar Photo Recovery software.
2. On the home screen of the software 'Select What to Recover.' Click Next.
3. Next step is to select the location from where you want to recover. Click Scan to start the scanning process.
4. A dialog box of 'Scanning Completed Successfully!' displays the scan results – number of files found and size of the data. In the left pane of the main window, all the recovered data is listed. You can preview them in the right pane. Note: If you do not see the videos you need on the list, select the Deep Scan option found at the bottom.
5. Click Recover. You can also choose to recover only the selected files. In other words, select videos that you need, right-click and click Recover.
6. Specify the location of where you want to save the videos on the dialog box. Click Save. All the videos get saved at the location you specified.

Minitool Power Data Recovery
MiniTool Photo Recovery and MiniTool Power Data Recovery are powerful recovery tools to help you recover lost videos and images from different digital video storage devices. For instance, USB disk, SD card, digital cameras, and many more.

CCTV surveillance videos are stored on a hard drive. Therefore, Minitool Photo Recovery Program may be used to recover these lost videos and images by using the hard drive. This tool has a free edition so you can check it out.
Here are the steps on how to use the Minitool Photo Recovery Program:
1. Connect the NVR/DVR hard drive/SD Card to the PC and Open the software. You may need a hard driver reader in order to connect it to your computer.
2. Select the Target Drive to Scan
3. Check Your Wanted Videos to Recover
4. Save the Selected Videos to the Specified Path
What to do if Video Loss is detected
There are several things you must check when this happens. Power connections must be checked. Be on the lookout for loose cable connection. Fix them and change faulty power cables, especially the old ones. Then re-launch the cameras and software.
Try connecting the camera to a different port on the NVR or DVR. This will check if the port is working correctly or not. If the issue is in the port, then you need to replace it with a new one so the video may be displayed.
Check the connection of the camera to the power adapter. Make sure that it is connected properly. The length of the Ethernet cable or Bayonet Neill-Concelman (BNC) can affect your videos. Make sure that it is within the specified length. Longer cables result in poor image quality, especially if it is more than the required cable length.
Check the PoE and router switch if you are using a wireless security camera. Make sure the switch is working properly. See to it that the infrared (IR) LEDs are on, and the camera is receiving enough power. Update firmware regularly. This can handle the video loss or not playing issues, allowing your system to run smoothly. The latest firmware may be downloaded from the CCTV manufacturer's website. If all the tips above fail, and you are still unable to view the video, try switching off all the devices. Then reboot the cameras, including DVR or NVR. Next, unplug all power switches and plug them again.