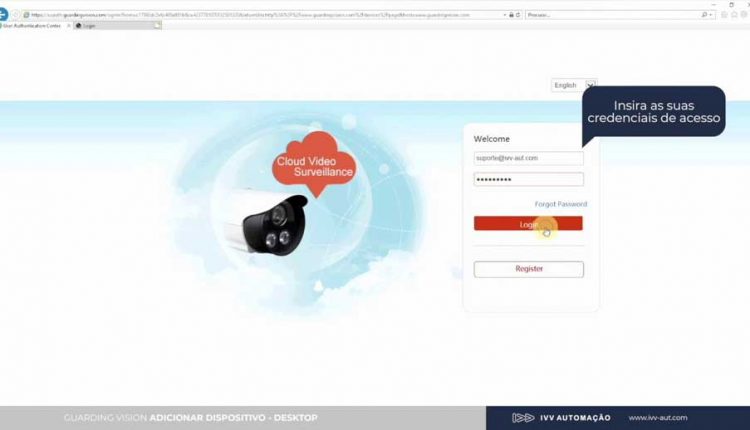 NVR settings:
configuration – network – Advanced – Platform Access
Select Enable
Enter a verification password 6-12 of letters &  numbers and NO special characters.
Select Save
Create a cloud Guarding Vision Account:
Create an account for your user (Hint: Use your Customers Email Address for User Name) at https://www.guardingvision.com/register
Select Register
Enter a User Name, Password , and the Email Address for your Customer
Enter the Verification Code that is sent to the cell number entered
Login to your Gaurding Vision Account with the Customer Email and Password. 
Add your device to the Guarding Vision's Customers Account
Select  the Device management Icon
Select the Add Button to enter your NVR or Supported camera
Enter your Device Serial Number. If there are characters make sure they are capitalized
Your Serial Number is a 9 Digit Number found Printed on the Bottom of your Device. You can also find this number in your your NVR settings under System-System Settings 
Enter your Device Serial Number and press search.  When the Device is found – you will need to select the "Plus " Icon.
If your device is not found, make sure it has network access to the internet.
Enter your Serial Number, Verification Code and press Add
Select Search and you should get an Green Success verifying that your device has been added to you customers account
If you do not get a successful response make sure that your Device is open to the internet and firewall settings are not blocking any ports.
Add the Device to the Guarding Vision Application:
Download the Guarding Vision Application from the Google Play Store or iTunes Apple store to your device.
Login to your Guarding Vision Account with the Email and Password that you created in the step above ( Create a Cloud Guarding Vision Account – Step 3)
Add your Device to be viewed in your application. You can add your device by either qr code Scan or manual Add (recommended).
Manual Add – Enter the serial number that you used while adding the device to the Guarding Vision Cloud Account and press the Save Icon ( Create a Cloud Guarding Vision Account – Step 10).
You will see a Results Page when successful
You can now see your Device and view Video
Add Your Guarding Vision Account to CMS:
Open and Login to your CMS Client
Select Device Management
Select Add New Device Type and Check Guarding Vision Devices
When you Select Guarding Vision, you will need to login into your Guarding Vision Account that you setup (Create a Cloud Guarding Vision Account – Step 3)
Under Guarding Vision Device – Select Add Device and Enter your Serial Number ( Create a Cloud Guarding Vision Account – Step 10) and Verification Code ( NVR Settings – Step 3) & Press OK
Now you will see your Device in the Device Management and Main View Page
TIPS:
Having issues with entering the Serial Number in CMS – Make Sure your Device is registered in your customers Cloud Account & Online
Cant See Image – Verification Code Error . This Means that you will need to add or modify your verification code. Or disable video encryption in NVR Settings:  Netwrok -Platform Access – Enable Stream Encryption (un-check)