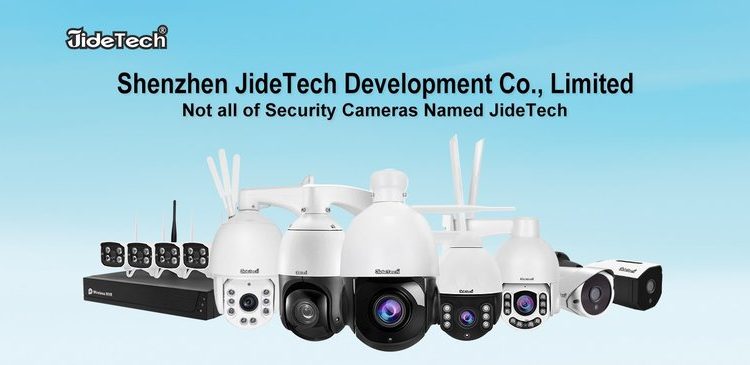 JideTech Software Firmware Tools and Guides Download
ABOUT JIDETECH
Shenzhen JideTech Development Co., Limited specializes in manufacturing high-quality PTZ Security cctv camera with POE, Wireless and 4G for smart city and private domestic security applications. We have been selling PTZ Cameras to North American and European Markets for over 7 years since the company was found in 2013 in Shenzhen, Guangdong, China.  Our products have been certified with CE, FCC, BIS, ISO and RoHS certifications and our owner brands "JideTech" & "Gentlen" camera system won trademark certificates issued by the North American and European Union Trademark Offices respectively in 2015 and 2017.
Our Cameras have been used by many well-known international companies such as IBM, HEVC, ADTEK, 4IP Technology, British DST, American BlackRock, American SHI, Russian SDS, 1st Constitution Bank, Merkury Innovations, CNS Paderborn GmbH, KiM GmbH, Gerhardi Inc. Etc.  We are now expanding our business in Russia, India and South Asian Countries through the "Belt & Road" Initiatives and now provides ODM or OEM cooperation for well-known brands in over 30 countries worldwide.
Our company has a strong technical supporting force and our own experienced R&D talents and highly qualified after-sales customer service team always provide premium services to All customers whenever need. We have launched sales on the international e-commerce platforms – Amazon, AliExpress, eBay and NewEgg and achieved over 6 million USD sales turnover in Amazon in 2018.
Our goal is to establish and develop long-term cooperation relationships with customers by our creative and innovated solution to customer requirements.
SOFTWARE DOWNLOAD
USER guide VIDEO
1.How to setup JideTech PTZ Outdoor POE Dome Camera
2.Add camera in iSpy Video
3.Blue Iris guide
4.How to connect the cms software
5.How to Set up Auto Tour& Preset
6.How to Connect the amcrest NVR
7.How to Reset Password
8.How to connect the IP camera Viewer
1. HOW TO SETUP JIDETECH PTZ OUTDOOR POE DOME CAMERA
2.ADD CAMERA IN ISPY VIDEO
3.BLUE IRIS GUIDE
4.HOW TO CONNECT THE CMS SOFTWARE
5.HOW TO SET UP AUTO TOUR& PRESET
 6. HOW TO CONNECT THE AMCREST NVR
7.HOW TO RESET PASSWORD
8.HOW TO RESET PASSWORD
SOFTWARE OF PTZ CAMERA
JIDETECH PTZ CAMERA SOFTWARE DOWNLOAD 
SCAN qr code TO DOWNLOAD MOBILE APP