Keep an intense eye at your home through your smartphone via the help of the best ip camera software. Read the entire details below!
Security is the utmost concern of every human being. And, especially, in this uncertain period of time when nothing is secure. We install a very powerful yet premium version of antivirus software to protect the privacy of our system. Isn't it so? Absolutely, we exactly do so. But when it comes to the security of our loved or closed ones then why we become so feeble-minded. Most of us install home security cameras for vigilance.
But, there are lots of things that need proper consideration while installing IP cameras which we usually neglect. Among all the accuracy and effectiveness of home security massively relies on the VMS (Video Management Software) you use. Hence, it is way crucial to pick the best IP camera software. Accomplishing this task, you need a proper tech knack, which can't be possible at all because some of us might be an amateur.
Therefore, they find it tedious, thus, here we presented the list of 10 best home security software that helps you out. So, without being fatigued let's start the discussion and go forward.
List of 10 Best IP Camera Software in 2020
Undoubtedly, CCTV DVRs have the same methodology, functionality, and felicity as use. Deciding what to use or what to not can be very tiresome, so that's why we are here to help you out. Below, we've rounded up the best free IP camera software, check out the entire details!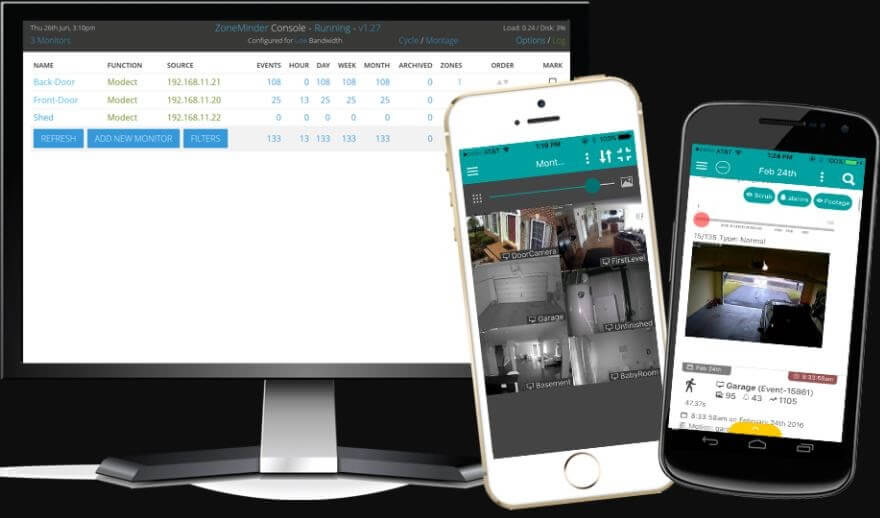 Every single person is worried about them and their family, thanks to the anti-social elements. But we can protect ourselves and our loved ones by monitoring them and other valuable objects. People install very expensive cctv cameras but they don't know how to coordinate and manage them, to resolve this problem of yours we present you the ZoneMinder, the perfect masterpiece surveillance software system to monitor your home, workplace, and loved ones whenever you want to.,
The main thing that made ZoneMinder one of the best IP camera software is that it is absolutely free and open source. This app is compatible with most of the cameras and comes with amazing 3rd party integrations.
Key Features of ZoneMinder:
Privacy protection for their user.
ZoneMinder is completely free and open-source.
Compatible with almost every camera.
Easy to install and user-friendly interface.
---
2. Blue Iris
Worried about the safety of your family or any of your valuable belongings? Or Looking for a best of class video management software for your CCTV cameras? Doubting your babysitter?
These are the common questions that come to a person's mind who has installed CCTV cameras for the monitoring of their homes, cars, children, etc. We have brought answers to all these questions and that is the Blue Iris video management software system that helps you to manage your cameras and keep an eye on your loved ones.
Blue Iris helps you to access up to 64 cameras, take JPEG snapshots or video recordings in your desired formats. This app helps you to listen and talk with the help of your eligible camera. You can also manage multiple installations of cameras with help of this app. Blue Iris is available in two versions that are Full and LE versions that have their respective prices. It is one of the best video surveillance applications available on this rundown.
Key Features of Blue Iris:
Blue Iris has a built-in web server that allows you to access Blue Iris anywhere in the world.
View live streaming of your video and get alerts for any specific event.
Works with user authentication and permission-based viewing.
Available with the feature of easily navigating your cameras.
---
3. Conta Cam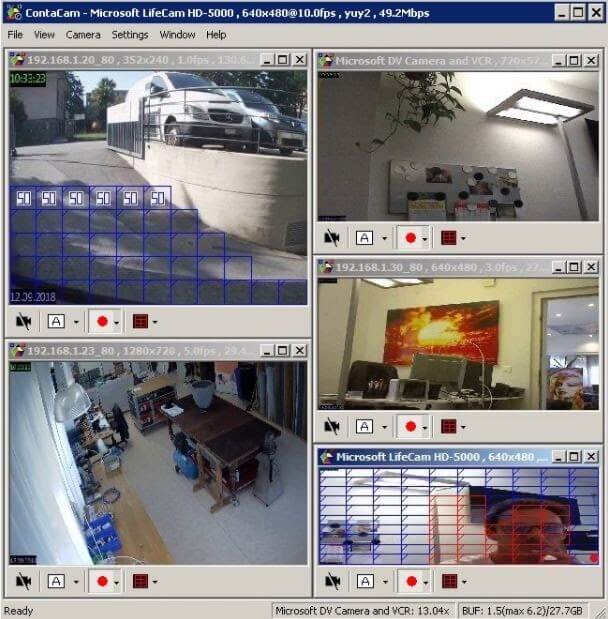 Conta Cam is a unique and fast video security program and live webcam software that is developed by keeping the needs of its consumers in mind. This software is fast, light, and does not contain unnecessary space and not so good features.
Conta Cam is very versatile and has a good user-friendly interface which is enough to meet your security and privacy requirements. This software is light and is able to run on even most potato PCs. This video surveillance software provides all basic and some premium features which must be presented in a video surveillance software.
Key Features of Conta Cam:
Fixed locking with previous and next video option.
Fewer chances of crashes and hangs.
Now, available with the motion-detecting feature.
Manual snapshots and recording options available.
---
4. iSpy – Video Security Program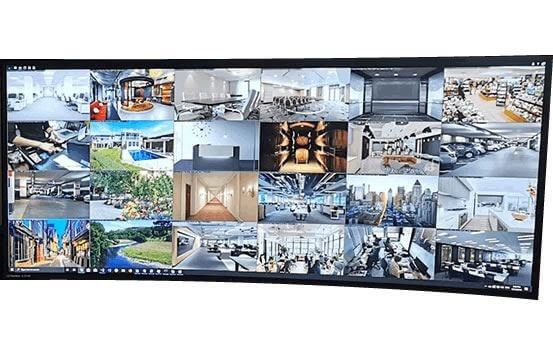 Developed by iSpyConnect, iSpy is an advanced best security dvr software available on the rundown. Moreover, iSpy is highly compatible with Windows, Mac, and Linux platforms. It is an open-source surveillance application by which you can connect to any webcam or IP camera. The application lets you access cameras unlimitedly.
iSpy allows you to schedule the task. Apart from this, you can fix the application to take screenshots and timelapse. With this, you can also be able to record video and audio and later on post it on your private YouTube account.
Key Features of iSpy – Video Security Program
Use SSL platforms for providing remote access functionality.
Cloud synchronization facility available that allows you to see videos and images from anywhere.
Supports scheduling functionality as well.
Tracks every object sharply.
Comes with in-built support for recording video and audio.
---
5. Perfect IP Camera Recorder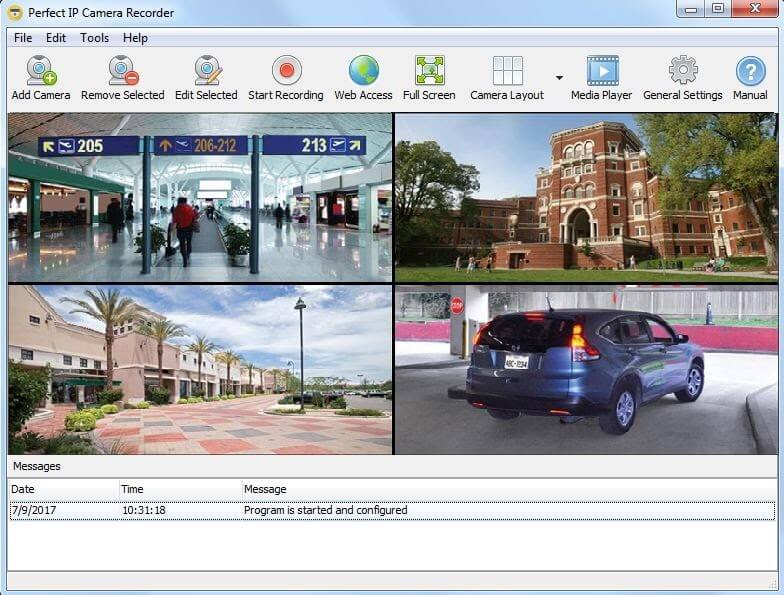 As its name suggests that it is one of the best video stream software for IP cameras. This program allows you to monitor cover your previously installed IP cameras. Perfect IP Camera Recorder is compatible with most of the IP and other security cameras. PTZ control support is also available.
This program can help you to monitor the activity at your home or office even when you are not present there. If you have the internet you can access your cameras from all over the world with the help of this program. It is a free IP camera recording software.
Key Features of Perfect IP Camera Recorder: 
Secured end to end connection which is protected by a password.
Supports almost every device over any connection.
Provides its users with an in-built video player.
Filter and customize your videos according to date, time, and any other criteria.
---
6. Webcam Monitor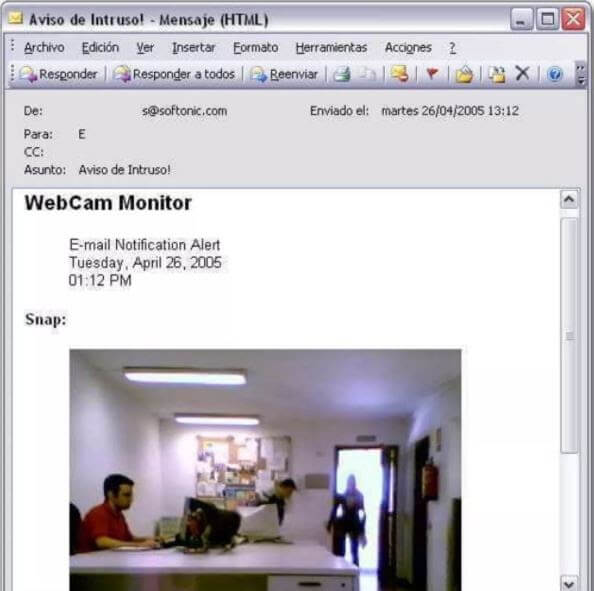 Webcam Monitor helps you to keep an eye on your home, office or any other location you want to monitor. This program is one of the best video surveillance applications that can help you to be aware of what happens when you are absent from your home or workplace.
Webcam Monitor also provides motion detection and noise detection that can trigger alerts and record that incident. This program helps you to access your cameras from all over the world if you have the internet. It can also record video of preset events to maintain records of events. Webcam Monitor helps you to upload any video, audio to any server, automatically.
Key Features of WebCam Monitor:
Automatic time stamping of previously recorded videos and audio.
Provide an auto-delete feature to save your data and make space for other files also.
Event log available quick accessibility of data.
Turn your computer in a video surveillance software.
---
7. iCamViewer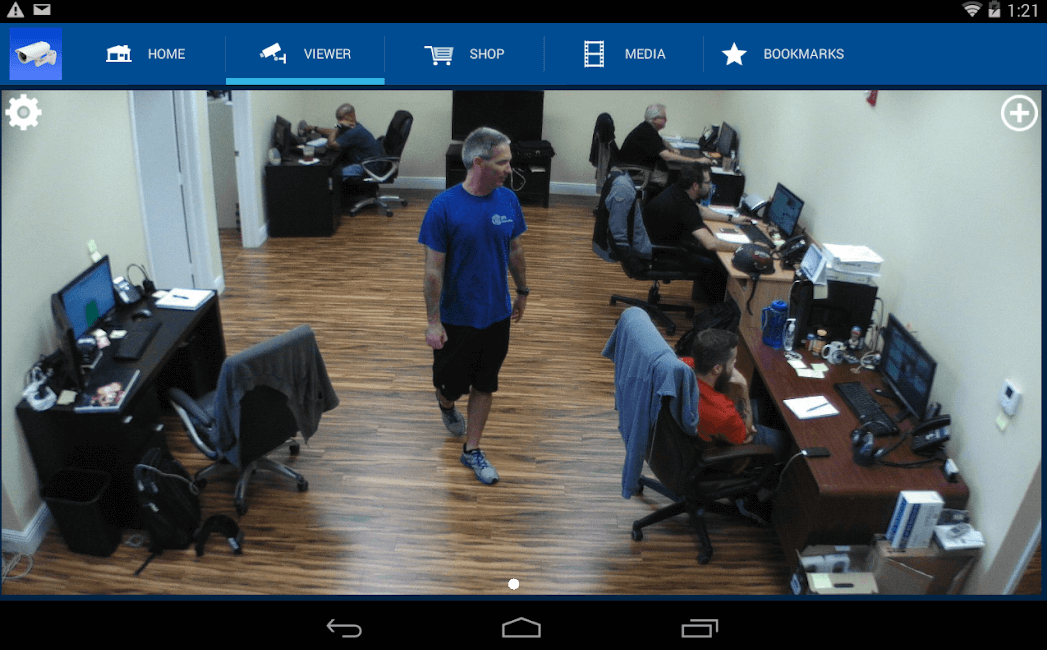 iCam Viewer is a surveillance software that lets you watch video from your IP cameras or webcams from your smartphone. With the help of this surveillance application, you can keep on regularly checking your home security. iCam Viewer is highly compatible with the analog CCTV cameras, so you can also use the same for connecting with the analog CCTV cameras too, just to watch the video.
Its large database supports almost up to 16 CCTV or IP Cameras. Moreover, you can utilize the iCam Viewer for capturing the image and recording the video. No doubt the app supports a vast range of security cameras but among all, it is an ideal option for iPhone users.
Key Features of iCamViewer:
Lets you share the images on the numerous social media platforms directly.
A separate control is available for YouTube.
Effectively compatible with the CCTV video security program.
The app permits its users to remotely watch the surveillance video.
---
8. Visec Surveillance Software

Moving forward, here is the best security DVR software that allows you to record, playback, and analyze video from the internet or from a local host. However, the application commonly used by the cities for recognizing the license plates, but the capacity of the application for home security is also a tight bound.
Moreover, this application also lets you keep an intense eye on your home or property through your smartphone or PC. Visec also helps you discover the IP camera in your network with the help of Visec Sports. This is a button that lets you find your nearby IP camera.
Key Features of Visec Surveillance Software:
Provide complete remote access.
Designs button for searching nearby IP Cameras instantly.
Compatible with Windows, Android, and ios as well.
Log window available for a better view.
Notifies you if your alarm gets off.
---
9. Freedom VMS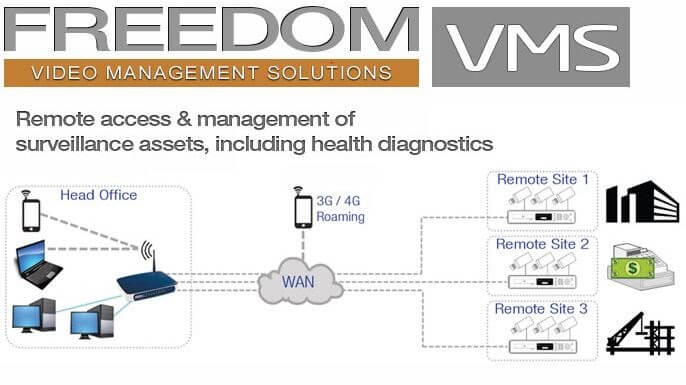 Freedom VMS is the advanced-level video surveillance software that is compatible with existing and innovative CCTV technologies. Moreover, it permits multiple CCTV platforms to integrate with the single surveillance software platform. With this, you can also view and playback other analog cameras too without any sort of hindrance.
Apart from this, Freedom VMS also assures to offer way more flexibility than others with the option of cable infrastructure. It supports a vast variety of CCTV camera technologies and effective costs associated with it right from beginning, managing, and extending a CCTV system.
Key Features of Freedom VMS:
To improve the Playback feature, it provides the timeline playback support for each selected camera.
Comes with the EMap playback feature that lets you review the picture just by clicking on it.
Video synchronization is also available that allows you to record multiple videos or images at a time.
Offers live streaming facility and remote playback functionality.
---
10. Sentry Vision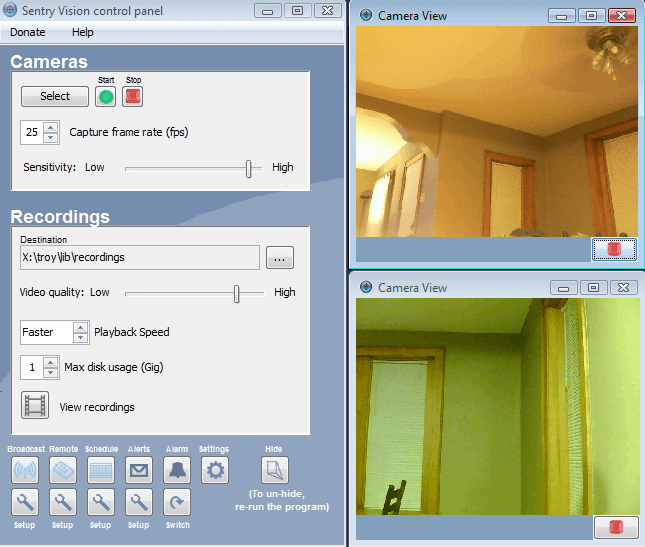 Now, you can keep a deep eye at your home from the office or gym. Here's the best free IP camera software to be your go-to guard. Sentry Vision is the ideal webcam security and surveillance system available for Windows users. With the help of this surveillance software, you can switch your computer into a home security system. Offers the facility to remotely access the system and get every bit about your home directly to your phone.
Key Features of Sentry Vision:
Supports multiple cameras.
Comes with in-built recording functionality and saves recorded files in AVI files.
Motion alert alarms (text and audio).
Lets you control the activities remotely.
---
Which is the Best IP Camera Software?
Why do we waste millions of dollars on our home security? When we perform this task with the minimum requirements just with the help of a video security system. Prominently, it costs a very little amount. Through this write-up, we've tried to teach you about the ideal IP cameras.
With the help of an IP camera, you can keep an intense eye on your home from anywhere at any time. Whether you are at the office or gym, or anywhere via the best IP Camera Software you can catch every activity that occurs at your home on your device.
Hence, go through the entire post to know every bit in detail. And if you are looking for our perspective, then we would like to recommend you to use Blue Iris and Conta Cam, the best video surveillance application. Well, as of now, it is time to end the note. Hopefully, this write-up must have been proved a big help for you. We'll be back shortly, till then stay tuned with us.